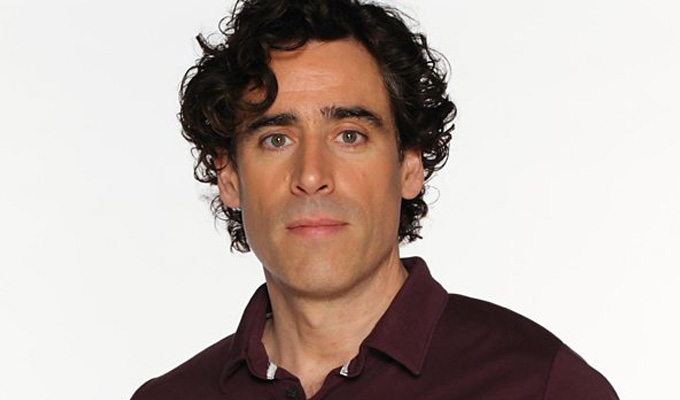 Stephen Mangan to star in new therapy comedy
Stephen Mangan is to star as a therapist in a new Channel 4 comedy.
The Green Wing star also co-wrote Hang Ups, which has been commissioned as six half-hour episodes and described by the broadcaster an 'unconventional' series.
In it, Mangan plays Dr. Richard Pitt, who conducts weekly quick-fire sessions with his patients through a webcam, sessions which are described as 'startling, unpredictable, discomfiting and hilarious'.
Channel 4 says: 'The few patients on his list present a hilarious and outrageous catalogue of neuroses, phobias, issues, anxieties and psychopathies, but even these short sessions, where he's confronted by everything from the sublime to the ridiculous, are not his greatest challenge. His patience and temperament are stretched to their limit by the daily interruptions of a demanding extended family, errant teenagers and his own trouble-filled past.'
Hang Ups is based on the Emmy-nominated series Web Therapy co-created by Lisa Kudrow, who also starred.
It will begin filming later this year and will air on Channel 4 in 2018.
Episodes star Mangan, who wrote the show with director Robert Delamere said: 'People are complex and complicated and they lead messy, knotty lives. We've tried to put some of that all-too-familiar turmoil onscreen and the result, I think, is chaotic, glorious and disturbing.'
And he tweeted today: 'Very excited about this. Wait until you see the cast we have for it.'
Fiona McDermott, Channel 4's head of comedy, commissioned the show, She said: Stephen Mangan and Robert Delamere have achieved the almost impossible task of creating a brilliantly farcical show that is, at heart, a family sitcom.
'An ambitious, modern comedy, Hang Ups is a timely, inventive and very funny exploration of the ridiculous pile up of challenges we call modern life.'
Mangan has recently shot Sky comedy Bliss, in which he plays a bigamist, alongside Austin Powers star Heather Graham.
Published: 23 Aug 2017
What do you think?