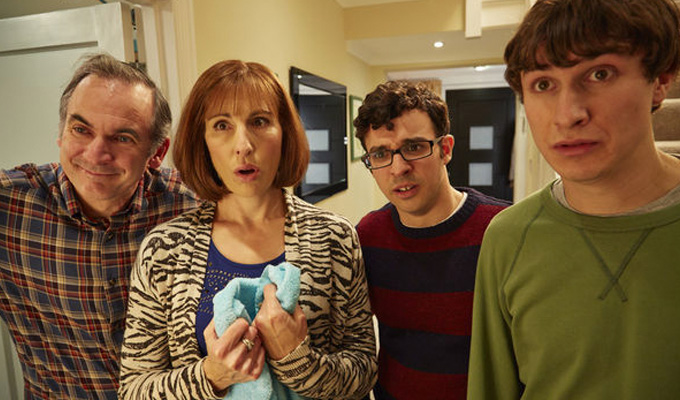 Channel 4 hungry for more Friday Night Dinner
Channel 4 has ordered a fifth series of Friday Night Dinner.
Stars Tamsin Greig, Paul Ritter, Simon Bird and Tom Rosenthal will all return as the Goodman Family, with Mark Heap as neighbour Jim.
The new six part series will shoot early 2018 transmit later that year.
In Series 5, Mum and Dad get a hot tub, much to the horror of Adam and Jonny; Adam accidentally sets his car on fire; Jonny won't stop prank-calling Adam; Dad becomes obsessed with his old, terrifying ventriloquist dummy; Mum organises her own, terrible surprise party; Jim goes on a date from beyond hell; and Horrible Grandma returns.
Friday Night Dinner is written and produced by Robert Popper, who said: 'I'm thrilled to be making a fifth series, and to be taking the show in a completely new, and radical direction.
'Friday Night Dinner 5 will be shot entirely in black and white, with the family now living and working on a barge in the North Sea. In addition, all actors will have their voices pitch-shifted three octaves higher, with the exception of Mark Wahlberg, whose voice remains the same.'
Bird added: 'I'm looking forward to six more weeks of eating squirrel, ingesting so much salt that I develop chronically high blood pressure, and humouring an oddball who seems to be pathologically afraid of his own dog. I can't wait to reunite with my old friends Tamsin Greig, Paul Ritter and Mark Heap. And Tom Rosenthal will be on set also.'
And Rosenthal added: 'During contract negotiations Friday Night Dinner writer Robert Popper pitched me an hilarious storyline of Jonny Goodman going travelling to North Korea and being run over by a tank so I asked for less money and now I'm here launching series five.
'I can promise you it was not the PR people who told me to say that it will be Fridayer and Nighter and Dinnerer than ever.'
Friday Night Dinner, which is made by Big Talk and Popper Productions, is one of Channel 4's longest running sitcoms. Launching in 2011 the series went on to win Best Situation Comedy at the 2012 Rose D'Or Festival.
Published: 23 Aug 2017
What do you think?