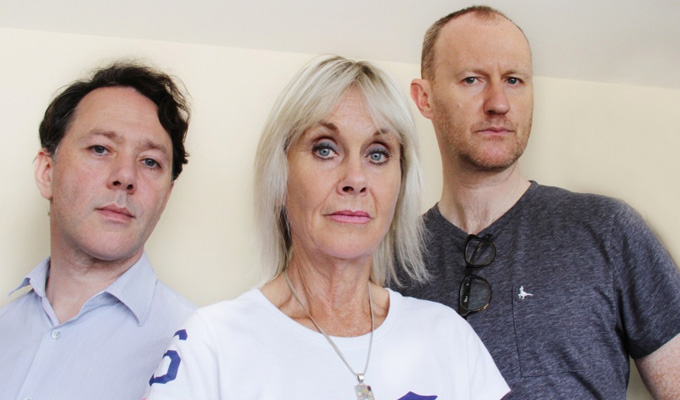 Gatiss and Shearsmith revive The Blood On Satan's Claw
League Of Gentlemen duo Mark Gatiss and Reece Shearsmith are recording a new version of 1970s horror classic The Blood On Satan's Claw.
The cast of the audio recording also includes Garth Marenghi and Prevenge star Alice Lowe as well as Linda Hayden, who appeared in the original film and is pictured above with Shearsmith and Gatiss.
Some scenes were recorded earlier this week, with producers Bafflegab set to launch a crowdfunding campaign to finance the rest of the project
Gatiss said: 'I first saw Blood On Satan's Claw in the Friday night horror slot on Tyne Tees television, when I was a kid. I remember it vividly because it scared the life out of me.
'It's so distinctly different. The pitch for the film is so strange, and it's very much in that folk horror tradition: dark, bucolic, earthy and genuinely disquieting. It's a fabulous tale."
Horror writer Mark Morris is adapting the script of the 1971 film, about an 17th Century English village taken over by a demonic plague, after a hideous skull is found in the furrows of a farmer's field. Youngsters fall under the devil's spell and retreat to the woodland to conduct games of sexual violence and sacrifice.
Morris said: 'I was first captivated by its unsettling, nightmarish atmosphere at the age of 12 or 13, since when it's been one of my favourite horror films. I leapt at the chance, therefore, to adapt and expand the original screenplay. The calibre of the cast we've been able to attract to the project is phenomenal.'
The crowdfuding appeal will be announced on Bafflegab's Facebook page.
Published: 21 Jul 2017
What do you think?