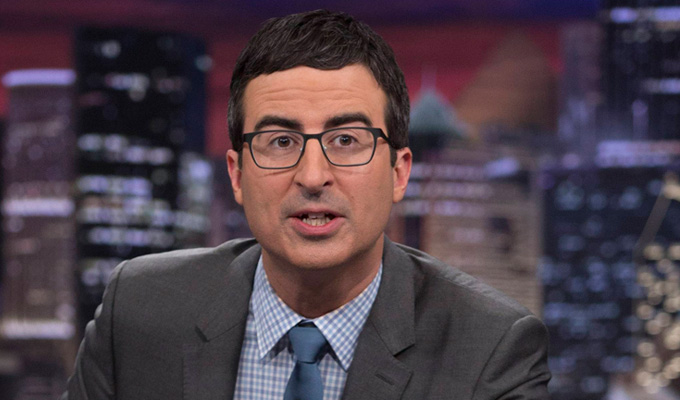 'Geriatric Dr Evil' sues John Oliver
A coal mining tycoon is suing John Oliver over the latest episode of Last Week Tonight.
The lawsuit comes after the comedian mocked Robert E Murray's attempt to stifle a segment about his mining business by issuing a 'cease and desist' letter to the makers of the HBO show before it aired.
In the programme, Oliver criticised Murray's company over their safety record, and compared the 77-year-old climate change denier to a 'geriatric Dr Evil' in a sequence which ended up with a giant squirrel on set.
However the programme made serious points, especially with regards to a collapse at one of Murray's mines in 2007 which trapped and killed six miners, whose bodies have never been recovered.
The following year, government safety watchdogs MSHA announced its highest penalty for coal mine safety violations, $1.85 million.
Murray has always insisted the collapse was due to a naturally occurring earthquake, something the official report dismissed, saying it was down to 'a flawed mine design'. Richard E. Stickler, the government's top mine safety official said at the time: 'It was not — and I repeat, it was not – a natural occurring earthquake.'
Murray's lawsuit claims Last Week Tonight conducted a 'ruthless character assassination' on the businessman 'by describing Mr Murray as someone who "looks like a geriatric Dr Evil" and arranging for a staff member to dress up in a squirrel costume and deliver the message "Eat Shit, Bob!" to Mr Murray.'
'Defendants childishly demeaned and disparaged Mr. Murray and his companies, made jokes bout Mr Murray's age, health, and appearance, ' adds the writ, which was obtained by the Daily Beast website.
The legal papers make much of 77-year-old Murray's ill health – he has pulmonary fibrosis and is dependent on an oxygen tank – as well as linking HBO and Oliver to Hilary Clinton's campaign, saying: 'As a presidential candidate, Mrs Clinton's agenda was to "put a lotta coal miners and coal companies outta business".'
The writ also states that the cease-and-desist letter was a 'humanitarian' gesture to stop the Oliver making 'any misguided attempt at humor regarding the tragic mine collapse and loss of life, which Plaintiffs believed would be cruel and heartless'.
It adds: 'Presumably to boost ratings, line their pockets with profits, and advance the show's anti-coal agenda, Defendant Oliver intentionally, falsely, and outrageously conveyed that Mr Murray has no evidence to support his statements that an earthquake caused the tragedy.'
In response, HBO issued a statement saying: 'We have confidence in the staff of Last Week Tonight and do not believe anything in the show this week violated Mr Murray's or Murray Energy's rights.'
Murray is known to be litigious and has filed over a dozen defamation lawsuits against journalists and newspapers, none of which have reached judgment in his favour.
He has even sued the Environmental Protection Agency for 'administering and enforcing the Clean Air Act in a manner that is causing coal mines to close'.
A 2012 Huffington Post article named him as the 'worst boss ever' after it emerged that he bullied his employees into making personal donations to pro-coal political candidates.
Here is the introduction to Oliver's segment, in which he flouted the cease-and-desist request:
Published: 22 Jun 2017
What do you think?