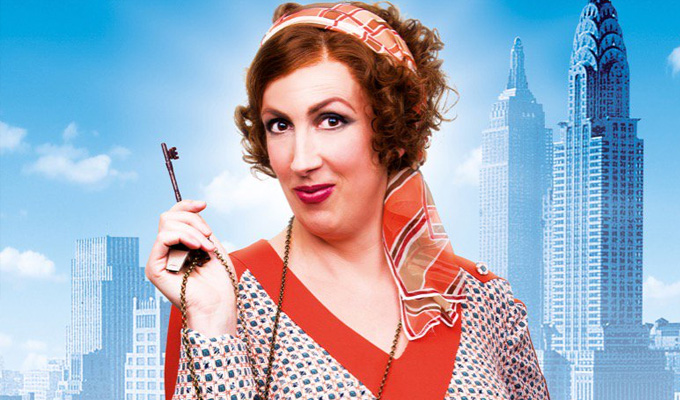 Miranda's singing 'is like a camel in labour'
Miranda Hart has received mixed reviewed for her West End and musical debut in Annie.
The comedian plays the villainous Miss Hannigan, who runs an all-girls orphanage in Depression-era New York, in the new London revival of the schmalzy musical.
And while critics praised her comic credential, they were more reluctant about her ability to capture the character's evil – and about Hart's singing.
Her best review came in a four-star Daily Telegraph write-up, in which Dominic Cavendish called her 'a triumph'.
He admitted he was a 'fan-boy' of the comedian and wrote: 'Half gorgon, half goofball, all round pleasure, she daftly-deftly combines menace with physical comedy.'
Actors' newspaper The Stage awarded four stars, too, and said: 'Hart brings an eccentric air of baffled but winning charm to the role'.
The Times also gave four stars for the show's 'expert mixture of naivety, whimsy and wit' but critic Dominic Maxwell, was more equivocal about Hart, saying she's 'not looking entirely convinced by herself as the nasty orphanage manager'.
In a three-star review in The Guardian, Michael Billington said he was 'decidedly ambivalent about her performance'.
He admitted she was 'suitably authoritarian' and 'can carry a song' but also felt she was too likeable to be the villain.
The same criticism came from the London Evening Standard's Henry Hitchings who wrote: 'She brings a fruity vigour and eccentricity to the part, and her rapport with the audience is warm. But vocally she has real limitations, and it's not easy to accept this essentially goofy performer as someone who'd contemplate getting mixed up in abduction and murder.'
And in the Daily Mail, Quentin Letts didn't mince his words, saying: 'Her singing is really remarkably bad: a coyote yowl, no more in key than a crane swinging in a high breeze.'
His review started: 'Anyone in central London last night may have heard a low moaning. Was it an Underground train negotiating a bad bend? Was it a camel in labour? No, it was Miranda Hart trying to sing in Annie.'
The show runs at until the Piccadilly Theatre until January 6, with Hart starring until September 17.
Published: 6 Jun 2017
Recent News
What do you think?