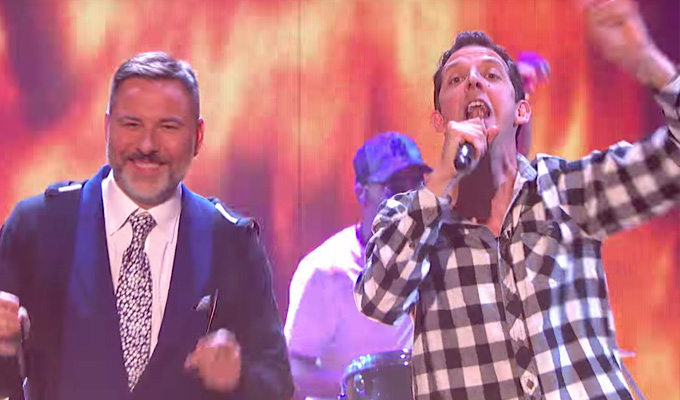 Jonny Awsum's BGT streak ends
Musical comedian Jonny Awsum has failed to make the final of Britain's Got Talent.
He performed a hip-hop track called the Triangle Song on last night's semi-final, inviting David Williams on stage to provide the percussion as he rapped about his home town of Croydon.
The set involved a band, hip-hop crew and pyrotechnics but it wasn't enough to impress either the voters at home, or Simon Cowell.
He said: 'I really liked the first audition but this was a backwards step for me. I'm frustrated because you had the opportunity to perform in front of millions of viewers but this wasn't great.'
However follow judges disagreed. Walliams said: 'It was brilliantly funny, especially seeing Simon's stony face and how much it was annoying him."
And Amanda Holden added: 'I loved it. We have never seen anything like that before. I can't think of any person who's similar to you. You made me laugh, the whole concept is yours and it was brilliantly staged – well done.'
Dance troupe Mersey Girls and singing duo The Pensionalities were voted through to the final on Saturday.
Tonight's semi will feature stand-up Daliso Chaponda and musical impressionist Jess Robinson.
Awsum had got through to the live semis of the ITV show after receiving a standing ovation from all four judges during the audition stage, when the roped in Ant and Dec to help out:
• Awsum is one of the 28 acts taking part in Chortle's Fast Fringe at the Leicester Square Theatre in London on June 25. Tickets.
Published: 2 Jun 2017
What do you think?