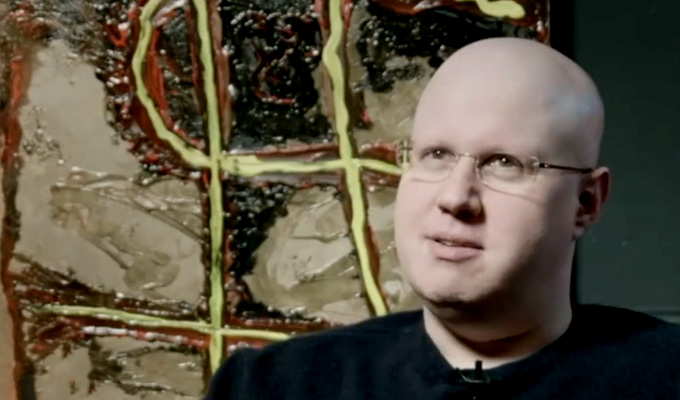 Matt Lucas: Margaret Thatcher was a murderer
Matt Lucas has branded Margaret Thatcher a 'murderer' for discriminating against gay people.
The comic has blasted the former Prime Minister for introducing the notorious 'Section 28' which banned schools from intentionally promoting homosexuality.
'I regard Margaret Thatcher and the people who created and endorsed Clause 28 as murderers' he said in a new documentary film. 'They prevented young men from learning how not to contract AIDS and die.
'You have to remember, there was a moment when there wasn't Clause 28 and then it came in. It wasn't something that they inherited, it was something they initiated. Fuck 'em.'
The Little Britain and Doctor Who star makes the accusation in 50 Years Legal, a new film commemorating the introduction of the 1967 Sexual Offences Act, which decriminalised sex in private between two men.
Stephen Fry also reflects upon the AIDS pandemic in the two-hour film, recalling that 'during that time a lot of my friends had to tell their parents they were gay and in the same sentence tell them they were going to die very soon and die one of the most horrible deaths.'
'It was like a war, you saw, as you do in wars, both the best and the worst of what humans can be. You can see glorious heroism and terrible cowardice and cruelty'.
50 Years Legal also features Julian Clary, Zoe Lyons and Stephen K Amos. It will air on Sky Arts in July and in selected cinemas later this year.
Recalling her mother's surprise at her coming out as a lesbian, Lyons remembers her saying: 'it's a little bit like being told your child's got cancer.'
Growing up, 'the advice was always, "well, it could just be a phase",' the comic explains. 'So I just kept thinking it would be a phase that would go away, one day I'd wake up and desire a husband and live in Surrey.'
50 Years Legal also features Elton John, Ian McKellan, David Hockney, Derek Jacobi, Simon Callow, Will Young, Peter Tatchell, Evan Davis, Paul Gambaccini, MP Angela Eagle, former MPs Matthew Parris and Chris Smith, as well as fellow members of the House of Lords, Brian Paddick, John Browne and Michael Cashman.
The film is written, produced and directed by Simon Napier-Bell, former manager of Wham!, Marc Bolan and The Yardbirds.
He told Chortle that none of the comedians in the film 'really wanted to be funny, or even light-hearted. They were all concerned with getting to the heart of the matter. In fact, it was there beneath the surface in everyone - however easy-going they seemed to be outwardly in their everyday lives, once I started interviewing them I could immediately feel how deeply ingrained their sense of injustice about LGBT matters is, was and had been all their lives.
'The biggest revelation was how, at the core of virtually every person I interviewed, was a latent activist. Most of us are not activist, me certainly not. We like to get on with our lives and just hope that things will get better.
'The one political act we all have to rise to is coming out. Thereafter, we're being activist just by living openly and honestly. But even the people who would describe themselves that way turned out to be much more deeply concerned with the need for fighting unfairness and inequality than I had thought they would.'
Napier-Bell's aim for 50 Years Legal was 'to make an entertaining and interesting film for a non-gay audience … As gay people, we should be proud that our history of fighting for gay rights should be of mainstream interest, sufficiently so that a film could be financed for general distribution.'
The documentary explores the homophobia and stigma that gay people continued to experience after the 1967 act. But it also suggests that the arts and comedy in particular, with its tradition of camp, provided a haven for gay people to be themselves.
'The arts, especially comedy and music, are wonderfully subversive,' Napier-Bell notes. 'When outward political statements are too dangerous to make, or could ruin a person's life, the arts is their refuge for expressing their feelings. Until only about ten years ago, to be out was likely to damage your career severely. In Hollywood it still is. So to side with your cause through the arts is, and always was, the best way to work for it.
'Besides, it's instinctive. The arts, whichever ones you look at, by their very nature have to be an extension of their creator's inner feelings, so it's unavoidable that gay artists will automatically become gay propagandists, whether they intend that or not. On top of this, in the artistic milieu there is great acceptance of people's individuality, whether sexual or of any other type, so for gay people a career in the arts, whether as an artist or an enabler, was always a sensible choice for a more pleasant and less pressured life.'
Clary concurs, remarking in the film, 'that all of things that I was told was going to be a problem, like my mannerisms and my voice, things that might have got in the way of other careers, you know, somehow in comedy, certainly when I started doing it, these could be used to your advantage. Talking graphically about gay sex all seemed to fit into that, without me really thinking about it or planning it.'
By Jay Richardson
Published: 30 May 2017
Recent News
What do you think?