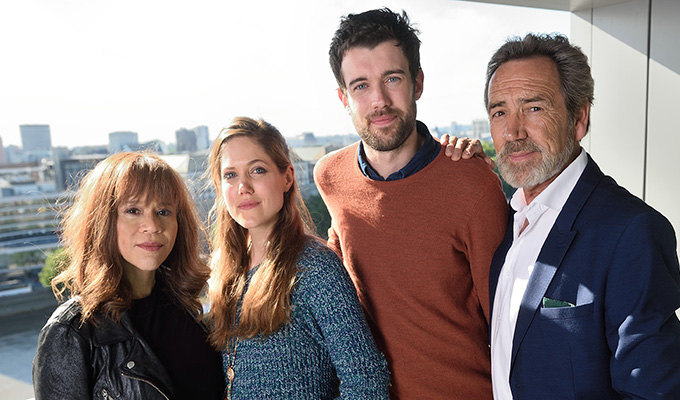 Cast announced for Jack Whitehall's Bounty Hunters
The full cast has been announced for Jack Whitehall's new action-comedy drama, Bounty Hunter.
As previously announced, the comedian – most recently seen in the BBC's adaptation of Decline And Fall – will star in the Sky 1 comedy as a 'posh uptight Brit', alongside former Oscar nominee Rosie Perez
Now it has been announced that My Family star Robert Lindsay; Ben Bailey Smith, aka rapping comedian Doc Brown; and Charity Wakefield, who played Mary Boleyn in Wolf Hall, are also joining the cast.
Whitehall created the show with his Bad Education co-writer Freddy Sybornand will star as Barnaby Walker, a British antiques dealer sorting out his family's cash-strapped business. However, when he unwittingly buys a 'blood antiquity' looted from a Middle East war zone, he calls on help from tough New York bounty hunter Nina Morales (Perez), to return the statue and get his money back.
Lindsay will play Barnaby's father, Nigel, recently hospitalised after a mystery accident, while Wakefield will play a 'rogue, scatty and wild' character called Leah.
Whitehall has previously said of Bounty Hunters: 'It's a really ambitious show which brings together my and Freddy Syborn's love of comedy and action movies, so we really hope we can pull it off.
'But mostly I'm excited about Rosie Perez joining us. She is an amazing actress, and I can't wait to see the Queen of Brooklyn pacing the mean streets of Wimbledon.'
Other key cast roles include Sophie Thompson, who was Stella Crawford in Eastenders; Bradley James, who played Arthur Pendragon in Merlin, Damien; Cuban-born Olga Merediz; Nigel Betts (Tony in Boy Meets Girl), Corey Johnson, Kyle Soller and Christian Ochoa.
Bounty Hunters is currently in production from Cave Bear Productions and is set to air on Sky 1 this autumn.
Published: 26 May 2017
What do you think?