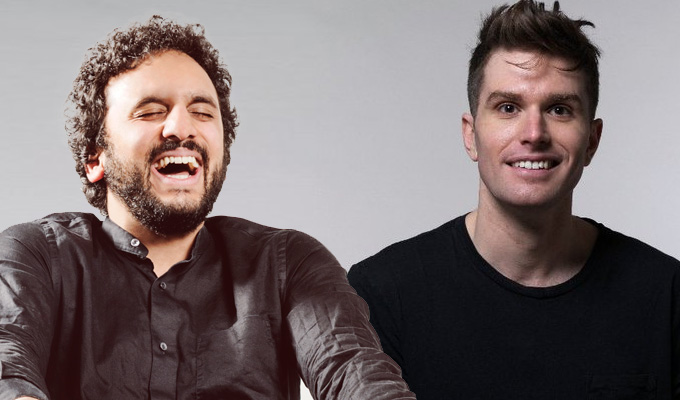 Comedy Central buys Nish Kumar & Joel Dommett travelogue
Comedy Central is to air a new travelogue from Joel Dommett and Nish Kumar.
The pair are also recording a separate pilot for the broadcaster – as well as starring in two of its forthcoming stand-up series: Soho Theatre Live and Stand-Up Central.
Joel And Nish Vs The World consists of six hour-long episodes following the comedians as they go on 'the adventure of a lifetime' to meet some of strongest, fittest, and toughest people in the world, including Sherpas and Masai warriors.
The broadcaster said 'In this funny and often jaw-dropping series the "brains and brawn" comedy duo go out of their comfort zone and explore the health benefits of a lifestyle based upon ancient wisdom versus the very Western lifestyle they are accustomed to.'
Kumar and I'm A Celebrity.., runner-up Dommett shot the show from October last year, as Chortle reported at the time, when it had the working title Fitter Than…
They are also piloting Comedians Solve World Problems – a weekly topical show in which they entertain guests on a couch in their flat as they discuss some of the world's biggest problems through a comedic lens. The pilot begins filming next month.
Louise Holmes, Comedy Central UK's vice president of programming, said: 'Joel and Nish are enjoying a meteoric rise to fame on the UK comedy circuit. Their comedic power and genuine chemistry as a likeable, roguish duo, places them in high demand, which is why we're so thrilled to be supporting them in a number of ways.'
That includes giving the pair headlining slots on two stand-up series – the newly-announced Soho Theatre Live, which will air this summer, and the return of Stand Up Central in the autumn.
Both Joel And Nish Vs The World and Comedians Solve World Problems are being made by Rumpus Media, which also made Romesh Ranganathan's Asian Provocateur for BBC Three and Henning Wehn's Immigrant's Guide To Britain for Channel 4.
Emily Hudd, the company's joint managing director, said 'The joy Joel and Nish take in laughing at each other under duress makes Joel and Nish vs The World a perfect reflection of their friendship. We're really excited to be tapping into that again with Comedians Solve World Problems, in which they'll take a break from trying to fight the planet and this time try and fix it instead.'
The travelogue was made for BBC Worldwide, which is distributing the series and format internationally.
Commissioning editor, Joff Powell said "We're really excited to have Comedy Central come on board as our UK partner for Joel and Nish vs the World as we both recognise the potential of bringing together two phenomenal comics in this new funny factual series.
'Using Mother Nature as a personal trainer, Joel is put through his paces with some of the toughest tribes in the world as Nish unveils the culture of these communities with fun and humour... and gets to laugh at Joel along the way!'
Published: 24 May 2017
What do you think?