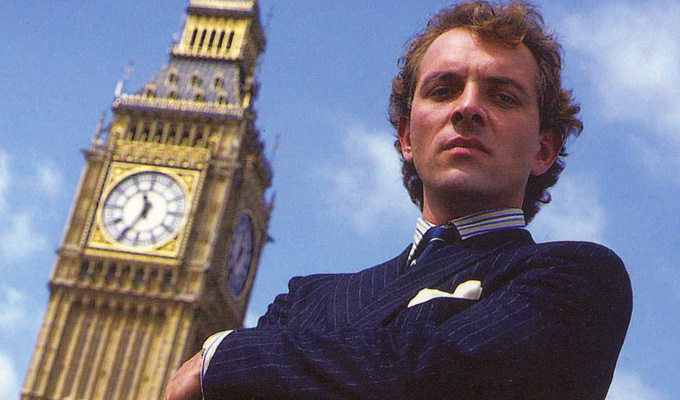 ITV are 'scared' to air Son Of B'stard
ITV are 'too scared' to air the comeback of immoral MP Alan B'Stard, his creators have claimed.
Laurence Marks and Maurice Gran are working on a sequel to their political comedy The New Statesman, but this time based around the illegitimate son of Rik Mayall's larger-than-life character.
They have pitched the comedy to ITV, which aired the original between 1987 and 1992, but say the broadcaster considered it too much of a risk.
Speaking at a Writers Guild Of Great Britain event last night, Marks alleged: 'They are frightened of it, they've said that. It's too risky, too scary for them.'
His suggestion seemed to be that ITV were scared of it being a flop, rather than fearing any political ramifications. However, he said he is continuing to pitch the idea.
'I don't know where it will go. I don't know if it will go,' he said. 'But I think it will. We have a much greater selection of places to take it these days.
'But it is going to be dangerous. It's going to be risky. And people might love it, as they loved Alan B'Stard.'
Revealing that the show may now be called The Son Of B'Stard, or The B'Stard Legacy, Mark's co-writer said they were now trying to find an actor to play the part who would appeal to broadcasters.
He said: 'What we are going to do with this show now is to attach casting to it; that's something else you're going to have to try to do - get some desirable casting.'
And he joked: 'George Osbourne's interested…'
The new show will revolve around Alan's long-lost son Arron B'Stard, who was adopted by two Green Party activists in Welwyn Garden City and who has built up an international business and media empire.
It is being developed three months after the death of Mayall – on June 9, 2014 – at the age of 56.
ITV declined to comment.
Marks and Gran's comment came at an event discussing the future of sitcom – read their thoughts on the topic here.
Published: 23 May 2017
Recent News
What do you think?