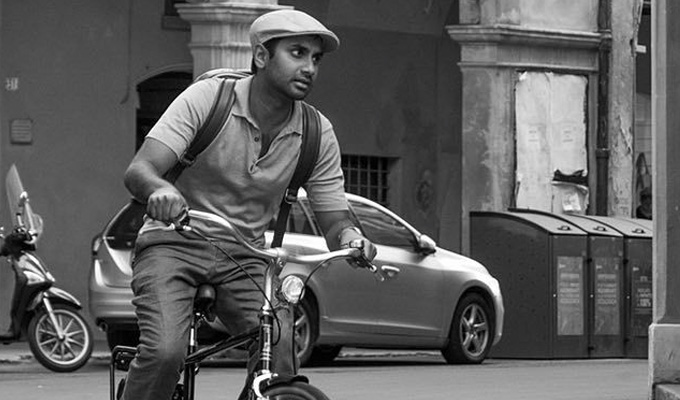 Aziz Ansari's Master Of None returns
This week's best comedy shows on demand.
Master Of None
Former Parks and Recreations star Aziz Ansari returns as hapless actor Dev Shah, returning to the States after a year in Italy, in the second season of this acclaimed Netflix comedy.
The first episode is shot entirely in black and white and pays homage to classic Italian films such as The Bicycle Thieves. While Master Of None itself has indie cinema sensibilities, with a complex and moving love story at its heart, as well as exploring Ansari – or rather Shah's – love of food.
Season two is already being showered with critical plaudits. Find out why  here
The Clanker Man
Here's a quirky and dryly satirical new mini-mockumentary from Ben Steiner about the man responsible for creating the metallic racket that is such an unmistakable part of the urban environment.
However, cutbacks have forced him to diversify into tasks usually left to specialists, such as leaving single gloves on railings and the random placement of books on bus sheler roofs, tasks for which he feels ill-suited. A fed-up and beleaguerued character, he epitomises the frustrations of public-service workers in austerity Britain.
Father Ted: A Song For Europe
Well, it is Eurovision Day  after all, so why not relive this classic episode. Oh, go on. Ted and Dougal decide to enter the 1996 Eurosong Contest with their surefire winner My Lovely Horse. Watch here.
The Onion Presents: The Iconic Images Of Election 2016
Making a weird election even weirder, this 22-minute film from 'America's Finest News Source', is now available to Amazon Prime subscribers and offers a surreal  look back at the 'unholy monstrosity' of the presidential campaign.
It's nothing as to what's followed of course. But let us remember a simpler, kinder time when political leaders merely roasted an  effigy of a British monarch on the White House lawn…
Watch here
Published: 13 May 2017
What do you think?