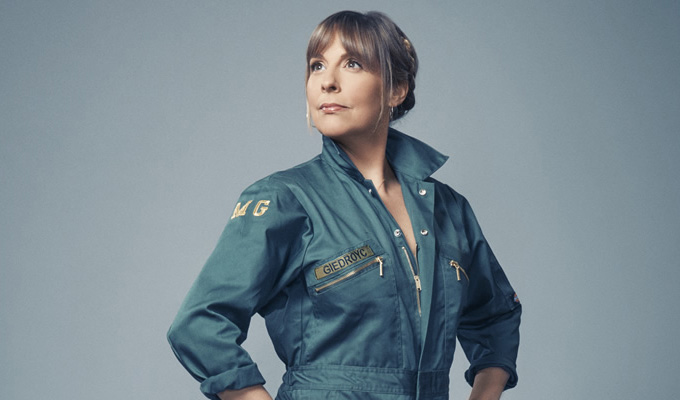 Mel Giedroyc pilots new panel show
Former Bake Off presenter Mel Giedroyc is to host a run-through of a new panel show devised by Jenny Eclair.
Mind The Gap will pitch team of youngsters, headed by Chris Ramsey, against an older generation, led by Eclair.
She devised the show with Judith Holder, who produced the Grumpy Old Women series and stage shows that Eclair starred in.
Producers Avalon have not confirmed which broadcaster the show is being developed for, but in March, Eclair wrote on her blog about a' hush, hush pilot project with the BBC, which is at such a delicate stage at the moment that I can't really breathe a word on it'.
The blurb for Mind The Gap reads: 'So if you're a fuddy-duddy who keeps everyone's phone numbers in a little book, thinks that a Youtuber is someone who helps with your bicycle tyres, or firmly believes that no good music was recorded after 1972; or if you're a millennial who has anxiety dreams about battery percentages, cannot imagine a world without kale chips, or whose life goals involve moving out from mum and dad by the age of 30, then Mind The Gap will definitely have some advice you can use.'
It is not the first time a cross-generational panel show has been tried. In 2013, ITV piloted Battle Of The Ages, hosted by DJ Dave Berry and featuring Tom O'Connor, Roy Walker, Hal Cruttenden, Roisin Conaty and Rob Beckett.
Radio 4 previously aired Act Your Age – which also featured Tom O'Connor as a regular – while Australian panel show Talkin' 'Bout Your Generation was based on the same premise.
The run-through of Mind The Gap will take place in the George IV pub in Chiswick – home of Headliners comedy club – next month. Click here to apply for free tickets.
Published: 12 May 2017
What do you think?