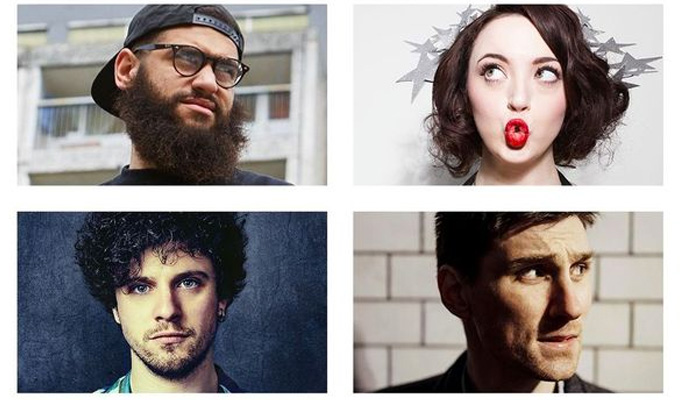 Brexit means... a TV show for these comics
A group of young UK comedians are to star in a new TV show about Britain's relationship with the EU.
Jamali Maddix, Fern Brady, Alfie Brown and Sean McLoughlin have just completed the Brexit Stage Left Tour, performing stand-up sets in Dublin, Berlin, Amsterdam and Copenhagen.
Their performances were filmed for the Viceland channel, and are expected to air later this year.
Each episode of the four-part series, also called Brexit Stage Left features two comedians exploring a city 'to find out if anyone outside Britain actually cares about the UK's exit from the European Union'.
Maddix takes Brady on her first trip to Amsterdam to visit a coffee shop and take a spin around Vondelpark on a tandem; and then explores Copenhagen's strong sense of community with Brown.
Brady and Brown visit the unofficial European 'Capital Of Cool': Berlin, and Mcloughlin investigates his heritage in Dublin, again with Brady.
Viceland executive Kevin Sutcliffe said: 'Brexit is a very serious issue for millions of people and in this era of fake news and snap elections we thought the only sensible thing to do was send four comedians to find out what is really going on.'
Executive producer Yonni Usiskin added: 'Jamali came to us with the concept and in a matter of weeks we were up and running on location. This is a great example of how great ideas can become a reality in a very short space of time at Viceland."
Maddix has previously made the critically acclaimed Hate Thy Neighbour documentary series for the channel, in which he interviewed extremists around the world then performed material about the experience.
For Brexit Stage Left, he hosted shows at the Sugar Club in Dublin, Birgit & Bier in Berlin, Toomler in Amsterdam and the Comedy Zoo in Copenhagen.
After the Danish show, Scots comic Brady tweeted: 'Weird how people in Denmark completely understand my accent yet people in Leave-voting English towns don't.'
Launched in September on Sky channel 153, Viceland UK is the television channel of the online lifestyle magazine, skewed towards a millennial audience.
Early ratings were poor but Maddix has spoken enthusiastically of the hands-off development the channel afforded him with Hate Thy Neighbour.
He told the Observer last year that when he was pitching the show's concept to other broadcasters, they all wanted to change the format too much for his liking. 'Then I got a meeting for the new Viceland channel and I told them the idea and they said, "Yep, good, bang" he recalled. 'And we made it. So Vice have been a lot more free and giving and it suits being there; it's not that weird show on Channel 4.'
- by Jay Richardson. Updated 24/4 with details of which comedians are in each episode and quotes from the executives.
Published: 21 Apr 2017
What do you think?