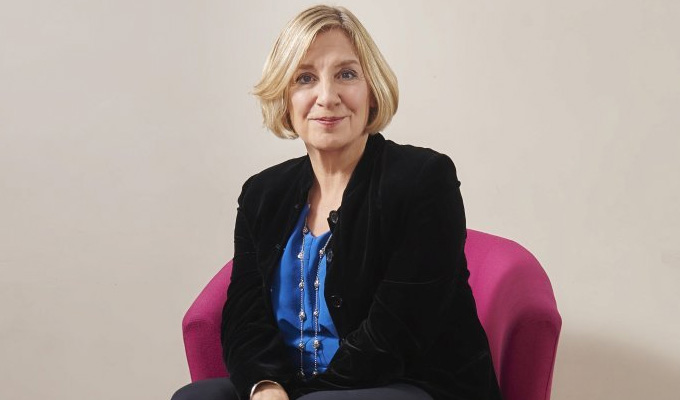 Victoria Wood wins Comedy Legend award
Victoria Wood has posthumously received the Legend of Comedy Award handed out by the Leicester Comedy Festival.
The comedian's sister Rosalind Watson attended tonight's ceremony to accept the award, which is chosen by a public vote.
She said: 'It would have meant a lot to her to have been voted a "legend" especially by a people's vote. 
'It's great that this ceremony is taking place here in Leicester, because we are just around the corner from the old Phoenix Theatre which is where Vic performed very early in her career. It's now called the Sue Townsend Theatre, but it's where Vic got a lucky break in 1976 as a relief pianist in Gunslinger, a musical set in the Wild West, starring her husband-to-be Geoffrey Durham and Alan Rickman.
'She was a legend and we're so fortunate to have her fantastic body of work. And so much of it is available on the internet. It's as if her work has had a new lease of life on Twitter and YouTube. We can see Victoria's sketches and songs just by clicking in a screen.  
'As we know she went way too soon but she has left a legacy that should make the world continue laughing for years to come."
Festival director, Geoff Rowe called Wood 'one of the most significant British comedians of the past half century, adding: 'She is a true legend of comedy, whose work will continue to inspire and entertain for years to come.'
Awards were also handed  out for shows, venues and other people associated with the festival,
Rob Kemp won the best show award for The Elvis Dead, in which the Evil Dead 2 is reinterpreted through the songs of Elvis Presley – and which won the best new show award in Leicester last year.
Stuart Goldsmith won best new show for his stand-up hour All The Time In The World, while Sooty & Co was named best kids' show. Michael Brunstrom: Parsley won the award for best poster:
Venue awards went to The Black Horse and The Little Theatre; Captain Coliño's Comedy Playhouse won best promoter; the Focus charity won the community award and Louise Granger and Equity, the performers' union she works for, was rewarded for a lifetime contribution to Leicester Comedy Festival.
This year's Leicester Comedy Festival included more than 800 events in 62 venues over 19 days. Around 80,000 tickets were sold via the main box office and a further 35,000 people attended free events.
Published: 4 Apr 2017
Recent News
What do you think?