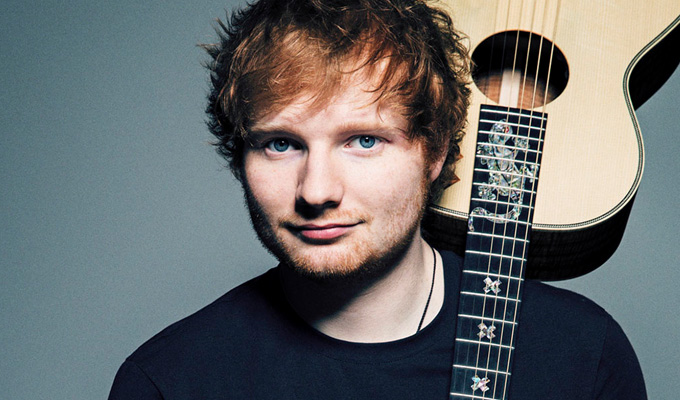 Ed Sheeran, the 'little hip-hop leprechaun'
• 'I'm genuinely jealous of a woman's ability to give birth' Stuart Goldsmith.
• Ross Noble had to stop his show at Plymouth's Theatre Royal last weekend – when a teenage fan started choking on a jelly bean. Thankfully a fellow audience member performed the Heimlich manoeuvre on Oliver Jackson, 18, to dislodge the errant candy.
• Birmingham's Sea Life Centre has a new arrival: Lenny, a lesser octopus named after Lenny Henry.
• Improv-comedy-rap duo Abandoman and Ed Sheeran once shared the bill of a tiny Brighton Fringe venue. Frontman Rob Broderick told Australian street paper Beat how they met: 'Ed somehow ended up sitting on the stage in a green hoodie, with his very ginger hair looking like a little hip-hop leprechaun, which is how I referred to him. We ended up doing a show together at Brighton Fringe Festival and then at some point when we were hanging out he was like, "Who's your lawyer?" I said, "Ed, it's grand, we're doing a free venue in Brighton to 20 people a day. I don't think either of us need to worry about our lawyers at the moment." Then a year later he was the biggest thing in music.'
• Arthur Smith has been learning how to be a town crier from Royalist Crier Tony Appleton on the streets of Chelmsford (though he kept getting the place name wrong). Here's how he got on:

• Comedy real estate news #1: Douglas Adams's London home has been put on the market for £5.95million. Close to Islington Tube, it's a very  smart five-bedroomed Georgian terraced house. Snoop around on the website of estate agent Savills.
• Comedy real estate news #2: Dibley Manor, from The Vicar Of Dibley, is up for sale for £3.95million.  The sitcom home of wealthy councillor David Horton (played by Gary Waldhorn)  is actually Missenden House in Buckinghamshire, and was built for Jonas Deacon, a prosperous East India merchant, in 1729. Again on sale through Savills.
• Vince Vaughan could have played Joey in Friends. The actor was up for the role in 1994, but was turned down by casting director Ellie Janner.
• One of TapeFace's most famous routines has wound up in a Dutch commercial for crisps. But at least – rarely in the world of advertising – the comedian did give permission and help develop the advert, so it's all legit!

• Al Murray is supporting both Marilyn Manson and Phil Collins this summer –  but as a drummer. His band Geyser is on the bill of the Download heavy rock festival in Castle Donnington on June 13, and the British Summer Time festival in London's Hyde Park on June 30, where fellow drummer Collins is performing his Not Dead Yet tour.
• Comedy blogger John Fleming went on a Blind Date for a Daily Mail feature this week. He was keen to meet his date again, but her verdict? 'He was a gentleman… but we had zero in common. I think John needs somebody who is a bit more traditional.' How stinging for the champion of the comedy circuit's weirder acts!
• Noel Fielding is in yet another Kasabian video. After 2009's Vlad the Impaler and 2011's Re-Wired, he's rejoined his mates for the new track You're In Love With a Psycho, where he plays a patient in a One Flew Over The Cuckoo's Nest-style mental facility… and in one scene performs a take on the Marx Brother's classic mirror routine:

• Netflix comedy shows are more popular in Scotland and Wales than anywhere else in the UK, according to the streaming giant. The Midlands prefer fantasies; Londoners prefer dramas and the North-East goes for horrors more than other regions.
Tweets of the week
One thing Tomorrow's World never predicted is that it wouldn't be on anymore

— Matt Lucas (@RealMattLucas) March 30, 2017
A potato wrapped in foil makes an ideal Easter egg for a vegan child.

— Gary Delaney (@GaryDelaney) March 27, 2017
Sick of all the modern types of 'clean' that your bum could be? pic.twitter.com/5nXKJHAFVH

— Adam Hess (@adamhess1) March 30, 2017
Published: 31 Mar 2017
Recent News
What do you think?