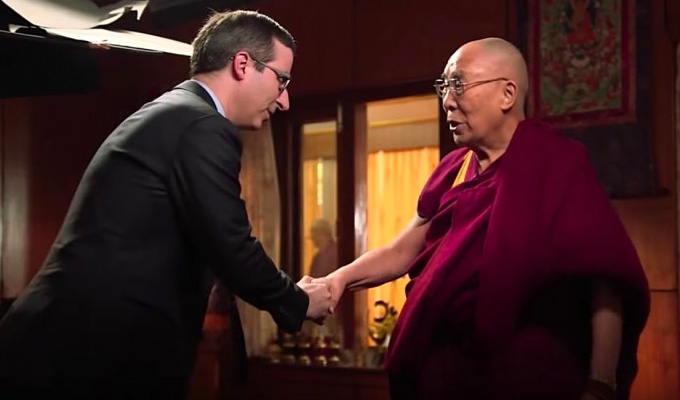 John Oliver's Dalai Lama drama
The Dalai Lama has further angered the Chinese government – by cracking jokes on John Oliver's show.
Beijing's Foreign Ministry has called the exiled spiritual leader a 'deceptive actor' after he was interviewed by the comedian on HBO's Last Week Tonight at the weekend.
Although their conversation – which took place in India's northern town of Dharamsala – was often serious, it also featured some lighter moments.
When asked about China depicting him as a demon, he rolled his eyes before throwing up his hands too make mock horns, saying sarcastically: 'Oh, yes, I'm a demon.' And he laughed as he told Oliver that the comic would be reincarnated as a demon to keep him company.
But the exchange that most angered Beijing is when he criticised hardliners, saying: 'Our brain has the ability to create common sense. The Chinese hard-liners ... that part of the brain is missing
Chinese Foreign Ministry spokesman Geng Shuang hit back: 'The Dalai Lama's comments in the interview perhaps appeared humorous and funny, but these words are all lies that do not accord with the facts.
'We often say that the 14th Dalai Lama is a political exile who wears religious clothing to engage in anti-China separatist activities. Now it seems he is an actor, who is very good at performing, and very deceptively.'
Friction between the Dalai Lama and occupied Tibet has spread into a row over the leader's reincarnation.
China insists its atheist Communist leaders have the right to approve which baby the Dalai Lama is reincarnated into. But the Dalai Lama has suggested the title could end with him, to stop China's political machinations interfering with the process.
'There is no guarantee that some stupid Dalai Lama won't come next, who will disgrace himself or herself,' he has said. 'So, much better that a centuries-old tradition should cease at the time of a quite popular Dalai Lama.'
Here is the Nobel prize-winner's interview with John Oliver:
Published: 7 Mar 2017
What do you think?