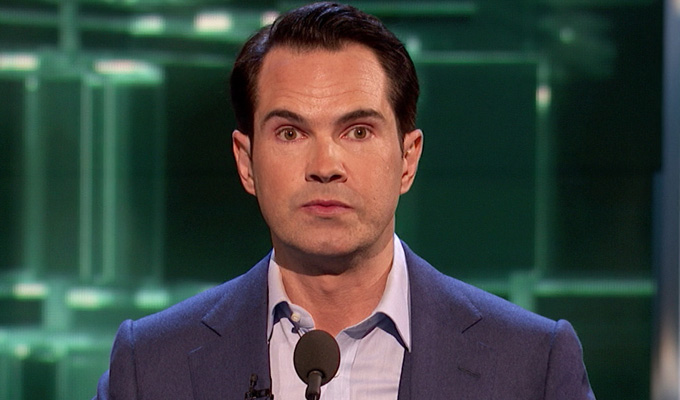 'A one-note comedian with the eyes of a sex offender'
When Jimmy Carr first met his long-term girlfriend, she thought he was a 'one-note comedian with the eyes of a sex offender'.
Karoline Copping was working on a panel show that Carr was auditioning for early in his career, so she took notes of her first impression.
'She actually wrote that,' the comedian confesses of the unflattering description, when he appears on Radio 4's Desert Island Discs this morning.
And he said that while Karoline wasn't immediately smitten with him, 'I knew. It felt perfect.'
The comedian also recalls how losing his Catholic faith at the age of 26 made him determined to make the most of his life, prompting him to quit his unfulfilling but lucrative job as a Shell executive to pursue a career in comedy.
He said he genuinely 'believed in the magic' of the religion, and that when that went 'there was a real sense of loss'.
And to the obvious surprise of host Kirsty Young, he confessed that he never told his devout Irish mother Nora that he no longer believed.
'I think it would have broken her heart,' he said. 'I couldn't have.
'The fact that it went just before she died.… I felt that when she left, that's when I really needed, that's when it would have been really nice to think, "She's up there". But no.'
He said that coming from an Irish family and growing up in Berkshire made him feel like an outsider, especially when the IRA were carrying out terrorist attacks on the mainland, 
'I really remember an incident of someone saying something racist to my mum in a newsagent and thinking, "Are we not like everyone else?" On the one hand it's a very negative thing, on the other hand it makes you feel very special.'
Asked if he was 'an intense little boy', Carr replied: 'Yes I think so.'
But he also said that he struggled as a youth, despite the image of him having a privileged life.
'I'm aware of how I come across now and how I appear,' he said. 'But school wasn't easy for me. I couldn't read until I was ten tor 11 with any level of ability. I just couldn't. I was so fearful of getting up in front of the class and reading something out. 
'I think the perception would be "Oh it was very easy for him". The quick thing in interviews is to say, "Oh, he went to Cambridge"… but the struggle to get there, though?'
Although he spoke of having difficulty reading, he did not say he was dyslexic. When quizzed over that, he said: 'I've been diagnosed as having dyslexia. But you get to choose your own narrative in life; you get to pick what you say and how you say it. You can define yourself. You can be the kid who had dyslexia or you can be the kid who went to Cambridge.'
Carr also spoke about losing his virginity at 26, confessing: 'I really remember being a teenager and thinking I'm not normal, I'm weird, I was a little bit repressed.'
After graduating from Gonville and Caius College, Cambridge, with a 2:1 in political science, he joined Shell.
But he said he became frustrated in the job. He cited the quotation: 'The good is the enemy of the best,' adding: 'I had a good life but I didn't think it was all it could be
'I was sad. I like talking about being sad. I think the term "depression" is overused. If it's circumstantial, then you're just sad. And there's so much more stigma about being sad than being depressed.
'I didn't suffer with depression, I was lucky, I was just sad and if you're just sad you can do something about it I was bored with my life. And it sounds so simplistic, but I thought: I know what will cheer me up: jokes.'
He said he worked hard on the circuit because he thought he was a late starter in comedy, and because he didn't want to look back and think that he hadn't done all he could to make a success of his career change.
But he explained. 'Success doesn't look like people think it looks. Success for me was the Comedy Store in Leicester  Square. I was doing 20 minutes and was paid £200. I thought, "I'm absolutely fine. I'm making money off my wits."''
Though he has often landed in the headlines for bad taste jokes, Carr said 'anything is fair game' - except, he ventured, the Hillsborough disaster.
'It's a tragedy that has touched people in a very specific way and I cannot imagine anyone coming up with a joke about that,' he said.
Challenged on whether the Dunblane school shootings or the Aberfan pit tragedy were similarly untouchable, the comic said: 'I haven't sort of analysed it in any great detail but it does strike me that most things heal with time to a degree and that [Hillsborough] hasn't.'
Among the songs Carr chose to take to the fictional desert island were Belle And Sebastian's The Boy With The Arab Strap, which he said best summed up his 'incredible' experiences in the 'paradise' of the Edinburgh Fringe; Death Cab For Cutie's I Will Follow You Into The Dark, which he described as an 'atheist hymn'  and Beyonce's Crazy In Love, which he called ''maybe the best pop record ever'.
His luxury was a coffee machine – admitting that he was fed milky coffee when still in the cot – and his book was The Oxford Dictionary Of Quotations, saying he wouldn't want to take his favourite tome – 
Raymond Carver's short story anthology What We Talk About When We Talk About Love – as he'd already read it.
Like all castaways he was given the Complete Works Of Shakespeare and The Bible, which he wasn't impressed with, saying: 'We could start the fire, couldn't we?'
• Desert Island Discs is on BBC Radio 4 at 11.15am.
Published: 5 Mar 2017
What do you think?