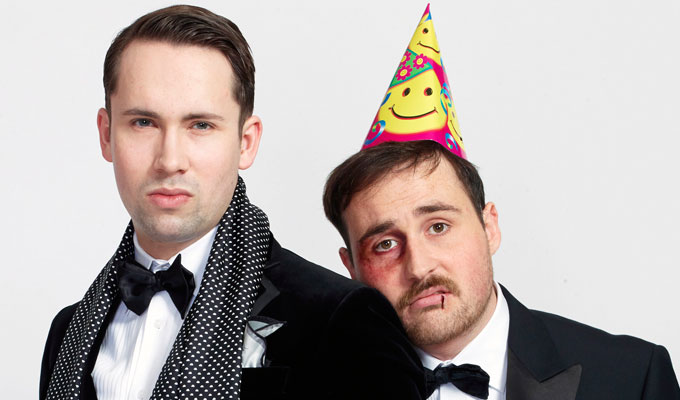 C4 picks up Max & Ivan's The Reunion
Max and Ivan have made a series of Channel 4 Blaps about going back to school.
The Reunion is based on their 2013 Edinburgh Fringe show of the same name, and is among several comedy shorts being launched tomorrow. Others include The Educatoror from sketch duo In Cahoots.
Max and Ivan's three episodes differ from their live show, in which the duo played all the characters, as they have now recruited a supporting cast.
Anna Crilly co-stars as the headteacher, with Tom Bell, Massive Dad performer Stevie Martin and Clever Peter's Will Hartley all playing fellow ex-students, returning after a decade away. Chewing Gum's Shola Adewusi has a role, too.
Max and Ivan wrote the show, as well as starring under the direction of Geoff Posner, who has previously worked with Harry Enfield and Victoria Wood. 
Co-producer David Tyler of Pozzitive Television described The Reunion as 'naturalistic but high-pitched, with a lot of action'.
'There are all sorts of interconnecting storylines – romance and friendship and chaos and things never said,' he told Chortle. 'It all explodes. Bad pupils who've come back. Pupils who nobody can remember but still seem to be there…'
Meanwhile, Drifters creator Jessica Knappett stars in The Educatoror, written and directed by In Cahoots duo Paul G Raymond and Luke Manning. It is produced by Matthew Mulot for Sacha Baron Cohen's production company Spelthorne Community Television.
Blaps are a testing ground for Channel 4 comedy. Previous shorts that have been developed to series include Roisin Conaty's Game Face, which airs early next year, the Bafta-winning Chewing Gum and hidden camera prank show Bad Robots.
Max and Ivan are about to embark upon a 12-night run at the Soho Theatre of their last Edinburgh show, Our Story, from February 20.
Here is Chortle's review of The Reunion from the 2013 Fringe, and here is an extract from the live show:
- by Jay Richardson
Published: 8 Feb 2017
What do you think?