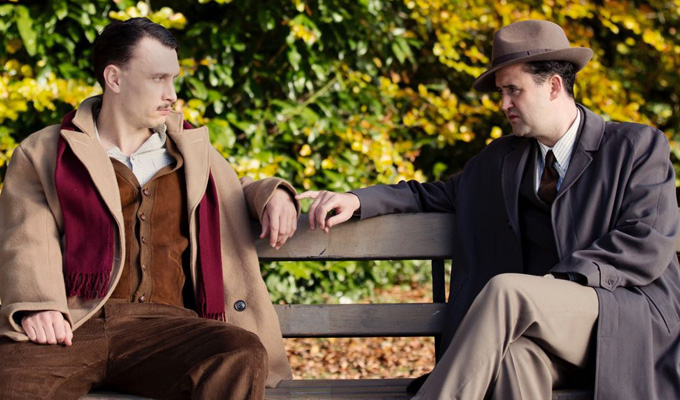 Richard Gadd to star in BBC docu-drama
Richard Gadd is to make his major TV debut, starring in a BBC Two docu-drama about one of the most famous homosexuality cases in British legal history.
The Edinburgh Comedy Award winner is playing Eddie McNally, who turned Queen's evidence against his lover – gay Daily Mail journalist Peter Wildeblood – in one of the most explosive court cases of the 1950s.
The trial led to the imprisonment of Wildeblood, Lord Montagu and landowner Michael Pitt-Rivers, but also started a backlash against the laws against homosexuality, which were eventually repealed in 1967.
Daniel Mays will play Wildeblood, who began his prison sentence a broken man with his career in tatters and his private life painfully exposed. But he emerged from Wormwood Scrubs a year later determined to do all he could to change the draconian laws against homosexuality.
Mays said: 'I'm incredibly proud to be part of a drama that tells such an important real-life story. Peter Wildeblood is a fascinating, complex, yet flawed character from a time when being a gay man in Britain was incredibly difficult - I can't wait to bring his tale to life for the BBC Two audience.'
Wildeblood, who died in 1999, wrote his of his experiences in a book called Against The Law, which is  also the title of the BBC Two drama.
Patrick Holland, channel editor of BBC Two, said: 'Fifty years ago, it was a crime to be a gay man in the UK. Against The Law is a stunning piece that melds drama and documentary testimony to tell the story of one man, and his wider generation, as they struggled to make society accept their sexuality as non-criminal.  
'It is brilliant to have a film that brings the authorship of Brian Fillis, the vision of director Fergus O'Brien, and the outstanding talent of Daniel Mays and cast to this important subject.'
The drama also features League of Gentlemen and Sherlock star Mark Gatiss as Wildeblood's prison psychiatrist, Doctor Landers, Mark Edel-Hunt as Lord Montagu and Charlie Creed-Miles as a police superintendent.
Made by BBC Studios, Against the Law will broadcast on BBC Two later in the year.
Gadd is pictured, left, with Mays in their roles.
Published: 8 Feb 2017
Recent News
What do you think?