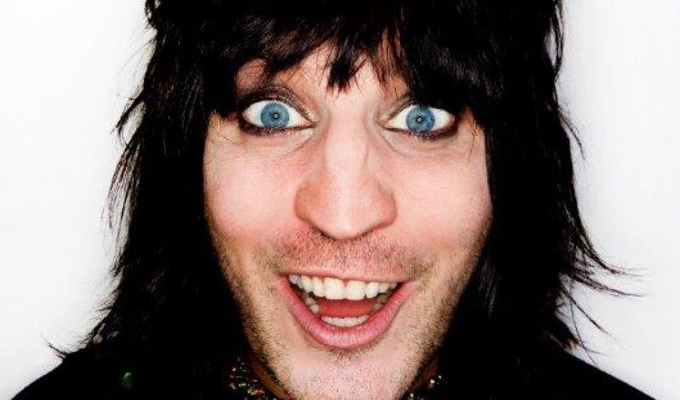 Noel Fielding films possible Richard Herring sitcom
Noel Fielding, Jessica Knappett and Ben Bailey Smith are recording the taster episode of Richard Herring's planned 'multiple universe' sitcom.
The trio started work on Everything Happens (For No Reason)  yesterday in the hope of persuading Channel 4 to pick up the idea for a series. 
Herring has been writing the script for more than a year, taking inspiration from Goodnight Sweetheart, the sitcom he has admitted an obsession with, Quantum Leap and Sliding Doors.
But he has vowed to make his script more 'realistic' than its forebears and 'fully explore the domino effect of anything changing in any timeline'.
Drifters creator Knappett plays Yvonne and Ben Bailey Smith, also known as Doc Brown, is her boyfriend, Gary – the character names being taken from Goodnight Sweetheart.
Fielding plays Ian, the mysterious figure who can cross between alternative realities. Writing on his Warming Up blog about the filming, in a City of London restaurant, Herring said: 'Noel had worked hard with costume and make-up to come up with a look for his character, which turned out like a cross between Frank Zappa and an Eastern European shepherd.'
The ten-minute tester is being directed by Al Campbell, who has helmed Drifters and Man Down but is better known for playing talking head pop culture commentator Barry Shitpeas on Charlie Brooker's Wipe series.
The shoot involves around 30 cast and crew and Herring added: 'I still can't get over how much effort gets put into putting my stupid ideas on to the screen. I was overwhelmed by it when we did Fist Of Fun and it still delights me just as much now.'
Herring is also working on a four-part multi-generational family sitcom for Radio 4. Relativity is described as being about 'death, birth, falling in and out of love, resentment over forgotten slights and indestructible affection'. It is to be recorded in March for broadcast in the summer.
Published: 30 Jan 2017
What do you think?