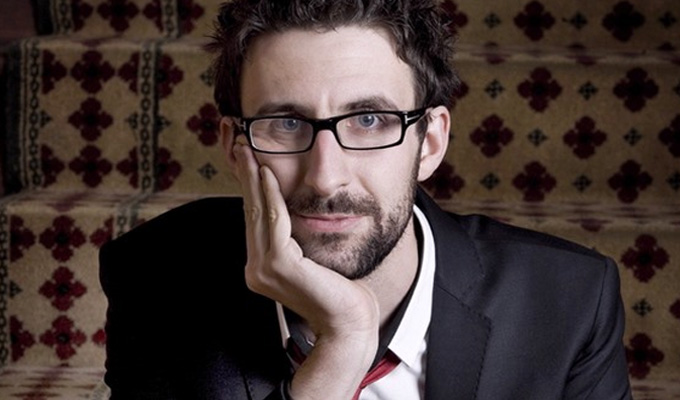 The 37th sexiest person in Bristol
• Tom Allen should have been on the next series of Comedy Central's Drunk History, but has confessed that he got too carried away with the drinking part of the show. 'They got me so pissed I passed out after ten minutes of recording,' he confessed in a newsletter to fans. He also admitted he wasn't quite sure what he'd let himself in for: 'When I was booked for it, I actually thought I was being booked for the Bafta-winning Horrible Histories.'
• Researching our story about Herbert comedian Spencer Jones's new project this week, we put '- Spencer Jones Jonah Man' into search engine Bing. Top result? 'Spencer Jones is a tall, lean, country boy muscle stud who loves jerking his big thick cock.' His act seems to have changed a bit, then…
• Some grasping tout on the 'secondary ticket' websites is hoping they can sell Jack Whitehall tickets for £8,122.99 – plus VAT (£9,747.58). The comic said: 'Yeah, I'd say that's a little steep. Shows good, it's not 8k good. Jokers.'

8K for a @jackwhitehall ticket, who's down? pic.twitter.com/7Oqqk6jKUo

— Zoë_ (@zoewbyy) January 25, 2017
• Mark Watson is the 37th sexiest person in Bristol, according to the Bristol Post. He trailled John Robins at 28, Russell Howard at 16 ('he could laugh most ladies into the bedroom, but is pretty easy on the eyes as well') and Joel Dommett at 4.

• This is Keith Lemon and Paddy McGuinness recreating Rocky in an image from their new show, coming to ITV this spring, in which they recreate classic movies. And in the most unlikely bit of casting, Andi Peters as will play Mr T. Other guest stars over the series will include former Pussycat Doll Kimberley Wyatt in Dirty Dancing (with Jessica Hynes and Larry Lamb as her parents) and Stephen Tompkinson playing Quint in Jaws.
• You probably didn't even know it was a thing, but New York comedian Adam Newman has set the record for the world's highest mic drop –  making the defiant gesture 7,000ft above the state of Gerogia. It's not known what happened to the mic:

Newman previously made the headlines when he found cocaine on a heckler:

• Jarlath Regan is flying to America next week to donate a kidney to his critically ill brother. The London-based Irish comic, who spoke about his decision in his last Edinburgh show, revealed more on RTE this week, explaining:  'His kidney function was down to 15 and normal is 85. There is no known reason why, considering the number of pints I've drank over the course of my life, but my kidney function is well over 100. So he's going to be rocket-powered by the time he gets this. It's in a few days and I hope everyone can touch wood because we have to hope that his body accepts this kidney.'
Tweets of the week
People have have accused me of being a narcissist, so I'm off to take a long, hard look in the mirror.

— James Martin (@Pundamentalism) January 24, 2017
You swear so much, you thought NSFW was a state in Australia.#australiaday

— GlennyRodge (@GlennyRodge) January 26, 2017
I grew up in County Down. I lived there from age three to one.

— Daniel Edison (@DanielEdison_) January 26, 2017
Published: 27 Jan 2017
What do you think?