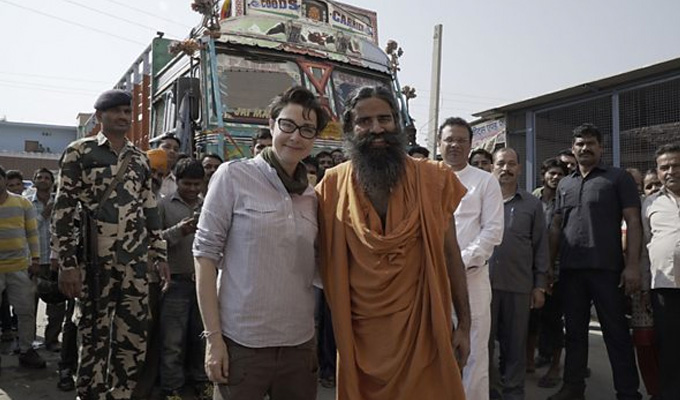 Sue Perkins goes up the Ganges
 Sue Perkins is to travel The Ganges in a new series for BBC One.
Her travelogue will take her from the sacred source of the river in the Himalayas, through the industrial and agricultural heartlands of India and on to the Bay of Bengal.
She said: 'I've travelled the length of the Ganges, from the oxygen-starved peaks of the Himalayas to the vast delta in West Bengal, meeting a huge array of characters on the way. Expect cows on bridges, India's Most Energetic Monk, and me, in a dress. I can't wait for you to see it.'
En route, he will join pilgrims seeking to wash clean their sins, work alongside fishermen and farmers who share their forests with man-eating tigers; and join some of the thousands of young women leaving rural villages and moving to the cities to find work and freedom. 
The three hour-long episodes will air on BBC One in the new year.
Clare Sillery, head of commissioning for BBC  ocumentaries said: 'The Ganges tells the story of modern India in one spectacular river journey. With Sue Perkins's wit, warmth and intelligence it's hard to imagine a better travelling companion.'
It is not the first South-East Asian travelogue for Perkins, after exploring the Mekong for a three-part BBC Two series in 2014. And last year's Kolkata with Sue Perkins drew 4.7 million viewers to BBC One. 
She has also driven the Dalton Highway in Alaska with Charlie Boorman and the Ho Chi Minh Trail  in Vietnam and Laos with Liza Tarbuck for The World's Most Dangerous Roads.
Perkins is also  to be the voice of an app that offers British drivers crowd-sourced information about upcoming accidents, hazards and other real-time road issues. 
She is the first UK voice of the Waze app on iOS and Androd, following Arnold Schwarzenegger, Morgan Freeman and Star Wars's C3PO. 
Perkins said: 'I have been half of the voice of baked goods for seven years, so to now be the exclusive voice of something is like a dream come true.'
Published: 20 Dec 2016
Recent News
What do you think?