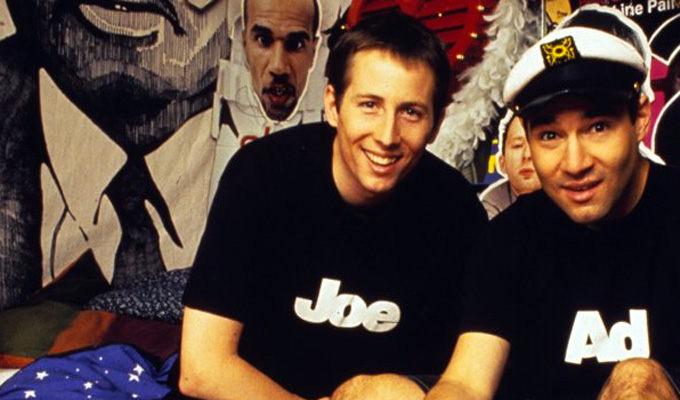 Adam and Joe at 20
Adam Buxton and Joe Cornish are this month celebrating the 20th anniversary of their Adam & Joe Show launching on Channel 4 - on December 6, 1996 to be precise. To mark the occasion they performed two shows at the BFI Southbank in London last night, which will be released as part of Buxton's podcast over Christmas. Based on those events, here we present a special Adam and Joe Weekly Trivia File special….
• 'I have a dog now called Rosie. I am obsessed by her anus.' Adam Buxton
• Cornish met Prince William and Kate Middleton at a Bafta bash in Los Angeles in 2011, soon after the release of his film Attack The Block.They asked him what the difference was between a producer and a director, which led him to conclude they are purposefully schooled to keep conversation bland to avoid anything potentially controversial 'or they are fucking stupid'.
• One of the people throwing footballs in Joe's face in the video for their Footie Song from 1997 was Louis Theroux – their schoolboy chum. Though sadly you can't see him in the video:

• But here's footage of all three of them back in the day (1990 to be precise) dancing like no one's watching...

• The theme tune to their Channel 4 show sampled this, from Shooby Taylor – a New York postal worker who called himself the Human Horn and performed a bizarre type of scat singing as a hobby. However he never made any money from his peculiar talent, and when he appeared at Harlem's Apollo Theatre was booed off within moments of taking to the stage. He had a stroke in 1994 that meant he could no longer sing, and he died poor in 2003.

• But Adam & Joe are also friends with movie director Garth Jennings, who sometimes appeared on their 6 Music show, and introduced him to Taylor's work. Jennings has included some of it in the new $70million animated film Sing, being released in the States next week, so Taylor's son stands to receive royalties… all, indirectly, down to Adam & Joe.
• The contestants in their overly complicated quiz sketch Quizzlestick (which the point out pre-dates Mitchell & Webb's Numberwang by several years) thought they were taking part in a genuine show. They nervously waited in the dressing room and swatted up on the day's newspapers – and ended up 'quite fucked off when they realised they were having the piss taken out of them.' But it the subterfuge meant their bemused reaction was very genuine:

• In their 6 Music show in 2007 and 2008 they foresaw Pokemon Go, Gogglebox and the films RIPD and 127 Hours.
• The Adam Buxton podcast is here.
Published: 16 Dec 2016
What do you think?