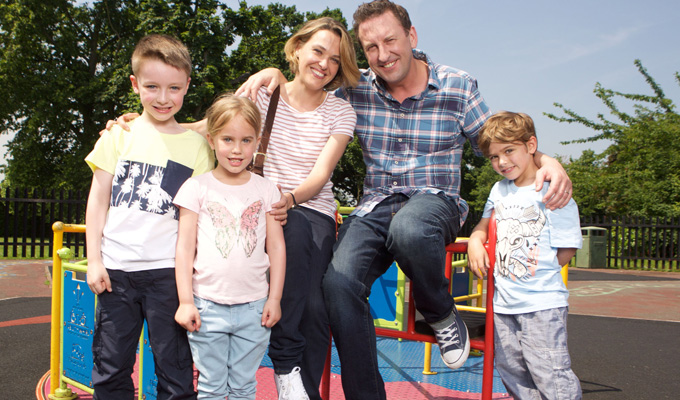 Two more series for Not Going Out
The BBC has commissioned two more series of Lee Mack's sitcom Not Going Out – taking the total up to ten.
The news comes before series eight launches in the new year.
Announcing the news at a screening of the new series in central London, BBC comedy chief Shane Allen paid tribute to the work Mack put into the show, saying: 'There are easier ways for a man of Lee's talent to make money.' 
And he said that the commission meant Not Going Out would be in an elite club, outstripping the likes of Dad's Army, which ran for nine series.
Mack joked: 'With the words "BBC" and "historic", it's nice to be good news for a change.
'When we started I thought it might run for just one or two series. I started the show in my 30s and currently I'll still be doing it in my 50s, even if we don't do any more after that.'
'But I'll do it as long as I'm asked because I actually like doing it. I know you're supposed to do the traditional way of doing six episodes, then maybe another six, and finish and call yourself a classic – but I like to really drag it out! I'll do it to death.'
The last series, in 2014, averaged just over 4million viewers per episode on overnight figures.
It returns to BBC One on February 13, set seven years after the last series. Now Lee and Lucy, played by Sally Bretton, have three young children and are living in suburbia, more closely reflecting writer and star Mack's real life.
Bobby Ball returns as Lee's dad, Hugh Dennis and Abigail Cruttenden as friends Toby and Anna; and Geoffrey Whitehead and Deborah Grant as Anna's parents.
The show – made by Avalon Television – was originally cancelled while the third series was on air, but the BBC later reversed that decision. Even before today's announcement, it held the title of the Corporation's longest-running sitcom on air, having launched ten years ago.
What company is Not Going Out in? Here's our list of the British sitcoms that have run for ten or more series.
Published: 14 Dec 2016
Recent News
What do you think?