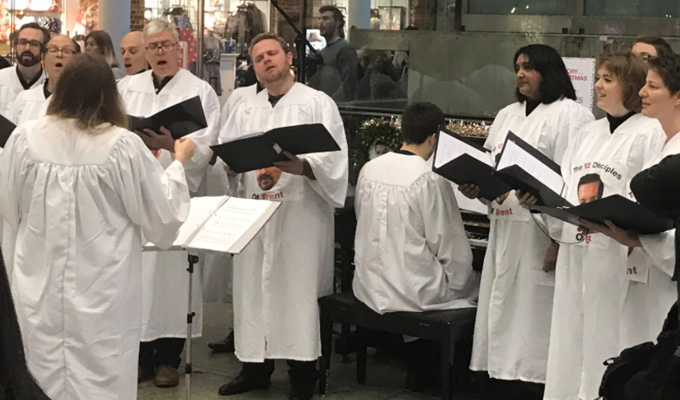 David Brent choir seranades commuters
A choir calling themselves the 12 Disciples Of David Brent entertained commuters at London's St Pancras station today.
They sang songs from the Life On The Road movie including choral versions of Slough and the festive Don't Cry It's Christmas.
However to spare causing offence, they did change the last line of the song from: 'So don't cry, it's Christmas, and it sounds a little gay' to '…and everything's OK'.
The station has free pianos for anyone to play, though it's not clear if today's singers were fans, or part of a marketing campaign, as the Life On The Road DVD is out on Monday. It is currently No. 1 on Amazon's pre-order chart.
Here are the disciples in action:
12 disciples of David Brent #ChristmasCarols pic.twitter.com/YiyZI5p3Bo

— MAGPIE (@Lou_Lou_Allen) 8 December 2016
• Catherine Tate turned on the Christmas lights at Stella McCartney's London store last night in the guise of her foul-mouthed nan character, mocking the £700 cost of her handbags. She previously did the same honours in 2010:

Published: 8 Dec 2016
What do you think?