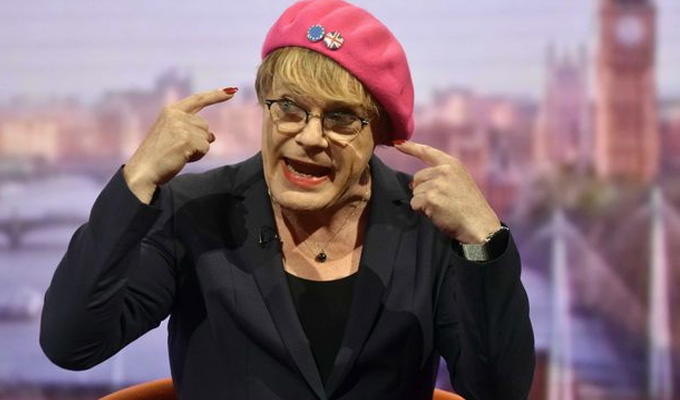 Putting his money where his mouth is...
Eddie Izzard was officially registered as a Remain campaigner in the EU – and spent more than £36,000 of his own money on the cause.
His name was including in referendum funding information figures published by the Electoral Commission today.
And his spend was more than the likes of the Scottish Green Party, Kenneth Clarke's Conservative Group for Europe or the Friends of the Earth .
Campaigners spending more than £10,000 had to register with the commission as a as a 'permitted participant'.
There were a total of 123 registered campaigners. Details of 48 are released today, who spent between of between £10,000 and £250,000. Another 47 registered but fit not spend more than £10,000 and the final 28 have not yet submitted their returns.
Other groups revealed today are The Sun newspaper and pub chain JD Wetherspoon, which spent £96,898 and £94,586 campaigning to leave respectively.
Bob Posner from the Electoral Commission said: 'The information we have published today provides a first chance to see the amounts of spending by many of the campaigners at the referendum. The publication of this data is vital in ensuring transparency and accountability, both in how campaigners obtained funds as well as how they spent them.'
Izzard spent more than £11,000 of his £36,229 on manifesto material, with most of the rest on transport and hotel costs as he travelled the country on the campaign trail.
Returns show fairly modest accommodation, with the comedian and his fellow campaigners staying in Jury's Inn, Travelodge and Ibis hotels. The smallest figure shown in his return was £2 for bike hire in London.
Izzard was a distinctive figure in the campaign, usually wearing a pink beret, which was temporarily stolen during a during a pro-EU rally.
After the vote he said: 'We believe in hope, we need to put more hope into the world than repair and that's what the European Union was set up to do. "It was set up to stop wars. If there are things wrong with it, we need to make it better. 
'Running and hiding was never going to work. So even though there has been a referendum and half the country is split down the middle, we must keep going forward.'
 In total, Remain supporters reporting expenditure under the £250,000 threshold spent £2.9m, compared with the £1,9m spent by those supporting Leave.
Published: 29 Nov 2016
Recent News
What do you think?