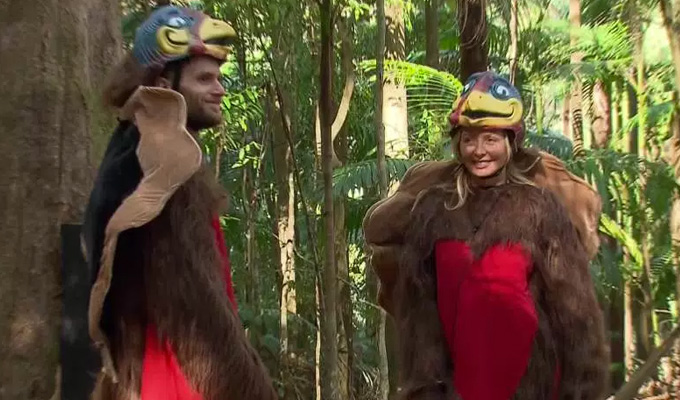 Joel Dommett flirts with Carol Vorderman
Joel Dommett and Carol Vorderman have stepped up their flirtatious friendship in I'm A Celebrity.
They traded innuendos as they took part in the latest Dingo Dollar Challenge… dressed as chickens.
Dommett joked: 'You're one sexy bird Carol.' 
And Vorderman called him 'my little bush cock'
As they struggled with an egg on a bungee cord, Dommett added: 'Shove it up me Carol.' to which the former Countdown star added: 'I never thought I'd be stuffing something between his legs.
The pair – the only two single stars in the jungle – eventually completed the task, and Dommett admitted: 'We did not cluck it up.'
Back at the camp, Dommett also told of the time he was 'catfished' online – duped into having 'Skype sex' online. Two years later crooks demanded a ransom to stop the video of his naked penis getting out. 
Speaking on I'm A Celebrity, the comedian added: 'I thought I was having Skype sex with someone, but it was just a video. It turned out it was someone watching me, watching porn. A porno Gogglebox!'
The campmates also joked about taking pictures of their genitals.
In September, we reported how Dommett was seen on TV getting naked to paint a picture with his penis, after visiting such a specialist artist called Pricaso for Channel 4's  World Of Weird.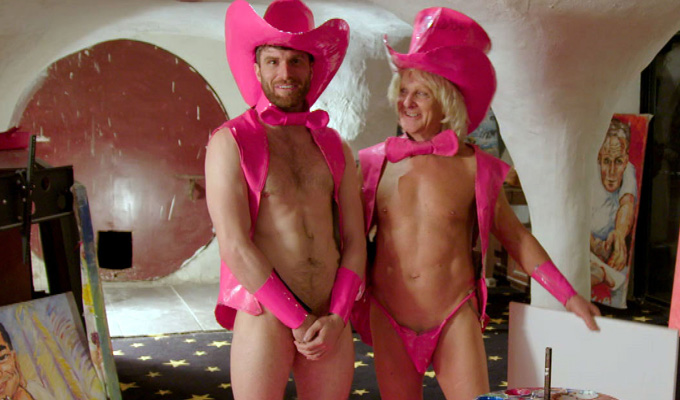 Published: 20 Nov 2016
What do you think?