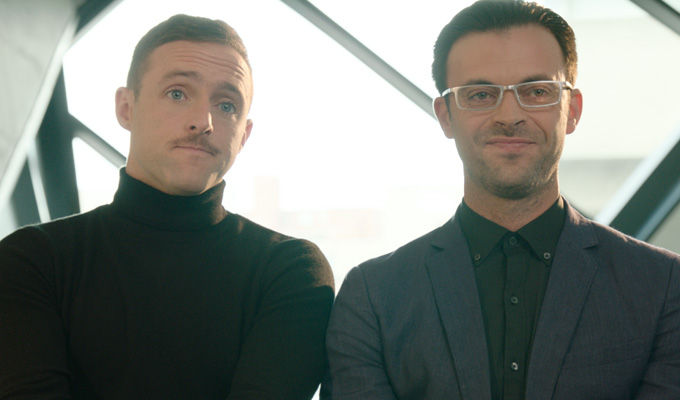 New BBC series from The Revolution Will Be Televised duo
The duo behind The Revolution Will Be Televised are returning to BBC Two with a hybrid sketch-prank series.
Jolyon Rubinstein and Heydon Prowse will be reviving some of their characters for the new show, called Revolting, including right-wing journalist Dale Maily and Conservative MP James Twottington-Burbage, now installed as 'one to watch' in Theresa May's cabinet.
They will be joined by character comedians including Colin Hoult, Rachel Parris, Catriona Knox and Murder in Successville's Tom Davis in the mix of scripted sketches and improvised satirical stunts.
Other cast includes Ace Bhatti, who played EastEnders villain Yusef Khan; Emily Lloyd Saini, and improviser with the Battleacts troupe who is also half of the Egg comedy double act.
New characters include Labour activists Penny and Robin, a Corbynite and Blairite who find themselves at odds; Dennis Pound of UKIP, canvassing for new policy ideas post-Brexit; Duckface, an online slacktivist trying to save the world with hashtag campaigns and Swedish designers Anders and Ole (pictured).
Targeting 'hippies, bankers, hipsters, fat cat developers, CEOs, extreme right-wingers, and of course, politicians', the five 30-minute episodes will air early next year.
Among the stunts, Rubinstein and Prowse will visit a BHS store in its final days to solicit support for embattled former owner Philip Green and interviewing far-right group Britain First.
The duo also explore the housing crisis, NHS budget deficit, Ireland's abortion laws, drone strikes, the Volkswagen emissions scandal and the enigma of Liberal Democrat leader Tim Farron.
Speaking on Romesh Ranganathan's podcast last week, Rubinstein described Revolting as an 'evolution' of The Revolution Will Be Televised. 'It's got slightly different rhythms, maybe slightly slower' he said.
'Revolution was boom, boom, boom. I'm really excited for people to see it. When you go and you're doing a hit on someone for instance, you shoot for a whole day, you only get about two and a half minutes out of it … I will stress there were no guns involved in the making of the show.'
Like the earlier series, Revolting is co-created by filmmaker Joe Wade. It is being made by Hat Trick Productions, following a successful non-broadcast pilot last year. The directors are Errol Ettiene and Ollie Persons and the producer is Joshua Buckingham, with the show commissioned by the BBC's Ruby Kuraishe.
The Revolution Will Be Televised ran for three series on BBC Three between 2012 and 2015, winning a Bafta for best comedy in 2013 and attracting an audience of just over 500,000 when it began. However, a general election special last year could muster just 105,000 viewers .
It was generally well received by critics. The Metro described it as 'snortingly funny satire' while the Guardian called it 'Sacha Baron Cohen with a bit more substance then, or Mark Steel with a few more laughs'. However the paper subsequently tempered its initial review, suggesting 'you might not laugh much but you'll agree the hell out of it'.
The format moved to BBC Two earlier this year with the referendum special Brexageddon?!, which attracted 750,000 viewers. Here's a clip from the one-off episode featuring Rubenstein as Twottington-Burbage, surprising Boris Johnson:
- by Jay Richardson
Published: 8 Nov 2016
What do you think?