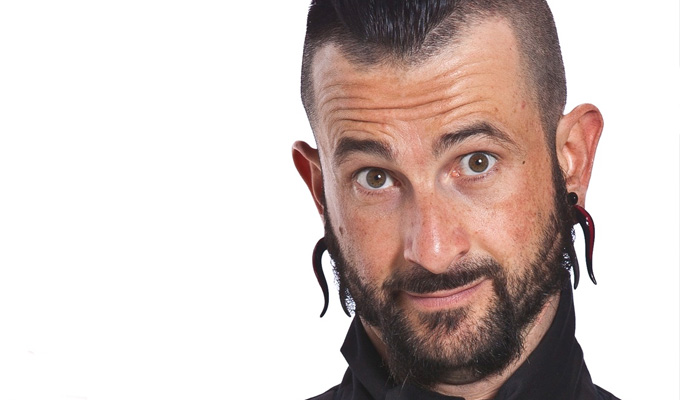 Is South Africa about to outlaw satire?
Comedians fear a planned new law could lead to hefty prison sentences simply for making a joke.
South Africa is considering an anti-hate speech move which could mean ten years in jail for comments deemed to 'advocate hatred' towards people based on a raft of characteristics.
They are: race, gender, sex, intersex, ethnic or social origin, colour, sexual orientation, religion, belief, culture, language, birth, disability, HIV status, nationality, identity, albinism, occupation or trade.
John Vlismas – whose stand-up show is called 'The Good Racist' – told radio station 702: 'Satire provokes thought. It's not the same as being hateful in the office.'
And the comedian, pictured, told news channel eNCA: 'I promise you, if they come after us as comedians, then everybody had better get in an Uber because they will come after everybody else next. You do not change awareness by censoring people.
Fellow comic Jason Goliath added: 'My fear is, how is hate speech going to be gauged? How do we define the difference between everyone's opinions about hate speech?'
Jacques Rousseau, who teaches ethics at the University of Cape Town, said: 'Read literally, the Bill would prohibit much satire (and I mean real satire, rather than fake news)' – and said that the 'occupation and trade' clause could mean jokes about lawyers or politicians could land a comedian in court.
Author Gus Silber made the same point, tweeting: 'Govt's Hate Speech Bill makes it an offence to ridicule any person or group based on their occupation or trade. Goodbye, satire.'
Other commentators feared that the legislation would result in a lot more self-censorship, for fear of falling foul of the new law.
But some comedians were more positive. Mongezi Mahlangu, who performs as Tol Ass Mo and hosts South Africa's Got Talent, said comedians 'need to be accountable' for what they say, adding: 'This bill should help us all become more intellectually aware about each other.'
The proposed Prevention and Combating of Hate Crimes and Hate Speech Bill takes into account crimes 'motivated on the basis of prejudice, bias or intolerance towards the victim'.
Launching a public consultation on the plans, Justice Minister Michael Masutha said: 'Recent racist utterances… [have] necessitated further measures to uproot this scourge which is reminiscent of our unenviable apartheid past.
'We should all take the opportunity at hand to contribute towards ensuring that once sanctioned into law, the Bill will assist all of us to deal with recurring incidences of racial, xenophobic and related intolerance.'
The draft bill does acknowledge freedom of expression, including the freedom to receive or impart information or ideas and the freedom of artistic creativity.
Published: 31 Oct 2016
What do you think?