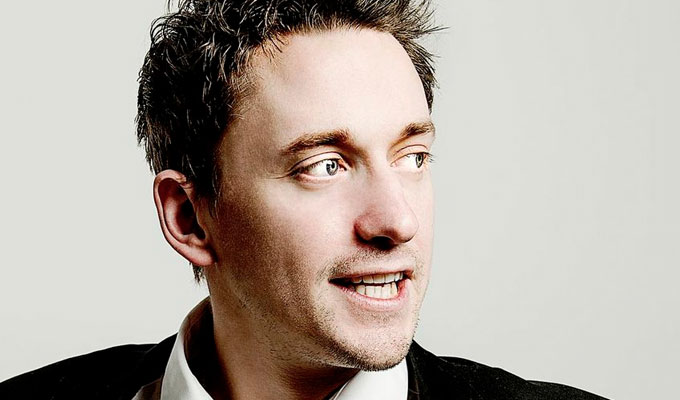 The great nipple cover-up
• Jason Byrne says the funniest heckle he ever got was: 'Get off, you're fit!' from someone thinking he was too good-looking to be a comedian
• John Robins was so worried that his nipples would showed through his T-shirt when he appeared Mock The Week that he wore 'nipple daisies'. He revealed it on the Radio X show he co-hosts with Elis James, as part of a discussion prompted by complaints about Elis's nipples looking 'too far apart' on the BBC Three sitcom Josh, below. Elis insisted that his nipples were 'absolutely fine'.
• Justin Moorhouse was asked to leave the poltergeist hunt on W's Haunted Hotel live last night – because he was throwing things. The comic apologised on Twitter saying: 'I was giddy/scared. For which I'm sorry (I think you'll see that apology tonight). BUT I wasn't responsible for EVERY noise in there…'
• Comedians Bob Slayer and Joz Norris are to have a courtroom showdown – on Monday's edition of Judge Rinder. The dispute between Slayer, who runs the Heroes venues at the Edinburgh Fringe, and Norris, who performs there, might not be as bitter as some, but it could be more entertaining. Norris told his social media followers: 'As some of you know, I recently had a catastrophic falling-out with my old friend and ally Bob Slayer regarding a pay dispute dating back to 2012. After four years of refusing to pay me, we were at a deadlock. Then in stepped a celebrity judge named Robert Rinder, offering to help us resolve the issue.' Watch the biggest courtroom drama since the OJ murder trial on ITV at 2pm on Monday.
• Peter Kay has surprised one of his biggest fans by telling her she'd won a Pride of Britain award. The comic made a surprise appearance on stage at the Fairfield Hospital Social Club in Bury to reveal Karen Johnson was set to receive a Special Recognition award. After pretending to play guitar on a 'double shove', the Phoenix Nights star told her she was being honoured for her work raising £2.5million to fund rare genetic and metabolic disorders. She knew was being filmed, but thought it was all part of a documentary about her work. The awards air on ITV at 8pm on Tuesday.
Tweets of the week
Don't know why people think Boris Johnson won't really 'lie down in front of a bulldozer.' He was happy to lie down the side of a bus.

— Tom Peck (@tompeck) October 25, 2016
Reading a book about the main benefit of the whiteboard. It's remarkable.

— James Martin (@Pundamentalism) October 24, 2016
Due to a typo, I was awarded an oboe in the New Year's Honours list.

— Phil Swales Comedy! (@philswales) October 27, 2016
Published: 28 Oct 2016
What do you think?