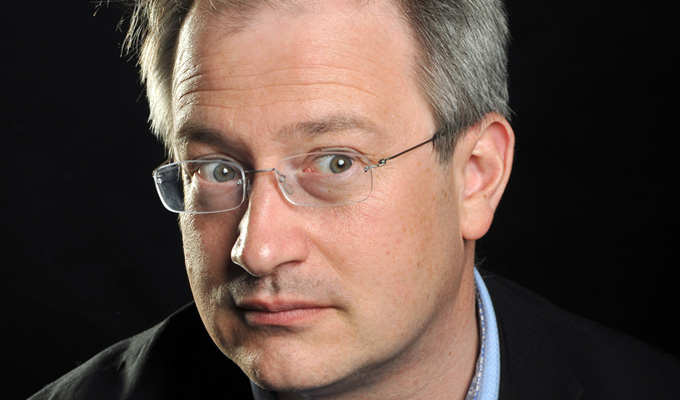 Robin Ince wins science award
Robin Ince has won a prestigious award for science journalism.
The comedian has scooped the Crick award – named after the Nobel-winner who co-discovered the structure of DNA – largely for his work co-presenting Radio 4's science programme The Infinite Monkey Cage with Professor Brian Cox.
The pair also tour a live show together, while Ince fronts the Incomplete Map of the Cosmic Genome, an online video-based science magazine, and presents an annual live celebration of science, featuring musicians and comedians.
Ince said: 'I have had so much fun making and touring shows about science that it seems excessive that I should get something like this too. I feel very honoured to receive the award.'
The Crick Science Journalism  award is handed out by the University of Northampton who said: 'Strictly speaking, Robin is neither a scientist nor a journalist – he's a comedian,. However, as a writer, entertainer and commentator Robin has done as much as anyone in the UK to bring scientific issues and subjects to a wider and younger audience.
Previous winners have included  Tom Clarke, Science Editor of Channel 4 News and Tulip Mazumdar, global health correspondent for the BBC.
The Crick Award has been announced on the first day of this year's week-long Nobel presentations, with the medicine prize going to Yoshinori Ohsumi for his work on how the body destroys cells.
Professor Nick Petford, vice-chancellor of Northampton University, said: 'We are pleased to acknowledge Robin's wide-ranging contribution to the popularisation of science.  His ability to combine comedy and scientific commentary is unique.'
Ince graduated in 1991 with a degree in English and drama from Royal Holloway, University of London, but his alma mater recognised his scientific work by making him an Honorary Doctor of Science in 2014. 
He says: 'There are a lot of intelligent, well-read comedians out there who are interested in science and who want to share their passions.'
Ince will receive his award on October 14 at the university, before taking to the stage of Northampton's Royal and Derngate venue with Brian Cox Live in the evening.
Published: 3 Oct 2016
What do you think?