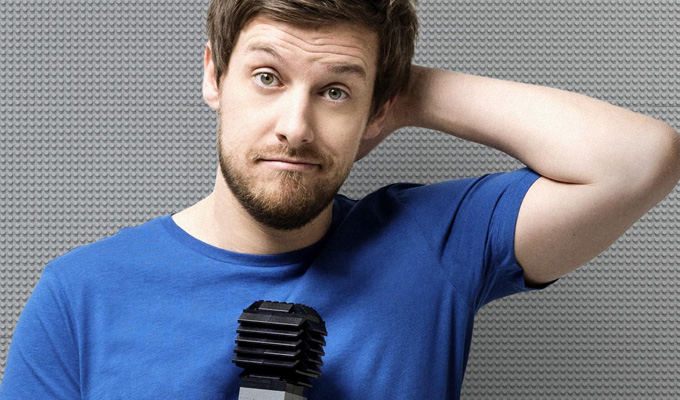 Comedy Central series for Chris Ramsey
Chris Ramsey is to host a 'unique and high energy comedy entertainment series' for Comedy Central.
The broadcaster has greenlit eight half-hour episodes of the programme, provisionally titled Feeding Chris Ramsey.
Shot in front of a live audience, the show will feature the comic and guests looking at news stories sent to Chris on his social media feeds, and feature a mixture of games, prerecorded items and audience interaction.
It is being recorded at the London Studios this autumn and is due to air in the new year.
Ramsey said: 'I'm proper chuffed to be doing my own TV show with Comedy Central. I'm a huge fan of the channel and I've got a fantastic team working with me on it. I am very much looking forward to taking all of the credit for their hard work, because as we all know there is no I in team, but there is an I in Chris.'
Commissioning editor, Louise Holmes, vice president of programming for Comedy Central added: 'Following a successful pilot, we're thrilled to be taking this show to the next level. Topical stories and a live audience always make for unexpected and unmissable TV.
'Chris is exceptionally talented and ridiculously hot property both on and off the comedy scene right now, so we can't wait to see him bring this concept to life for our audiences.'
Ramsey is active on social media with almost 380,000 Twitter followers and is a self-confessed 'cyber-loafer'. He has previously hit the headlines when his tweeted plea to get pizza delivered to a train he was travelling on went viral, and earlier this year tweeted a bizarre incident when armed police stormed his hotel room and slapped him in handcuffs – mistaking him for a knifeman.
Before the pilot for Comedy Central, Ramsey last year recorded a test episode with a similar premise for Channel 4, which was then called Too Much Information.
Feeding Chris Ramsey, will be produced for Avalon TV by Mark Iddon, with Richard Allen-Turner and Jon Thoday as executive producers and Emma Clarke as executive producer for Comedy Central. It has been developed by Comedy Central's head of development, Matt Tiller.
Published: 31 Aug 2016
What do you think?