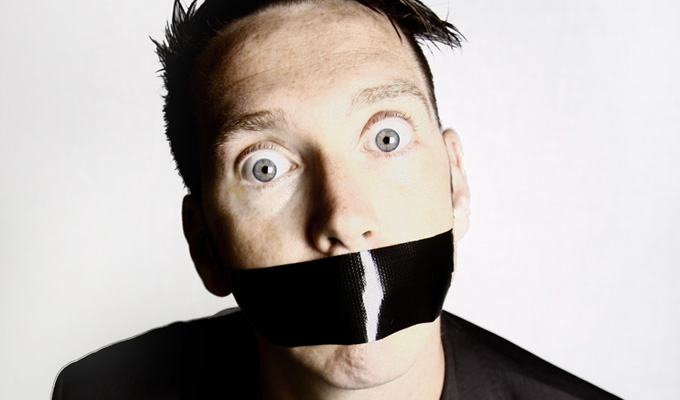 Tape Face appears in America's Got Talent semi
Tape Face appeared in the semi-final of America's Got Talent last night, sparking a row between the judges.
The mime walked out with a bag of balloons, which he put under an audience volunteer's arms and legs, then his own. Then The Good The Bad And The Ugly theme kicked in, and Tape Face – also known as The Boy With Tape On His Face – produced a pair of staple guns and it became clear this was to be a cowboy-style duel to burst each other's balloons.
His performance ignited a pantomime-style fight between Simon Cowell and Mel B, after the talent show's guru told him: 'I think, like Mel, you have the ability to do something stupid and be interesting at the same time.'
The former Spice Girl then threw Heidi Klum's drink over Cowell rather than discussing Tape Face's performance.
However Howie Mandel said the mime had a 'fun' act and encouraged viewers to vote. The results will be announced on NBC tonight.
Tape Face, real name Sam Wills, is a Kiwi former street entertainer now based in the UK, who embarks on a British tour next week. Dates
Here is his performance on last night's show:
Published: 31 Aug 2016
Recent News
What do you think?