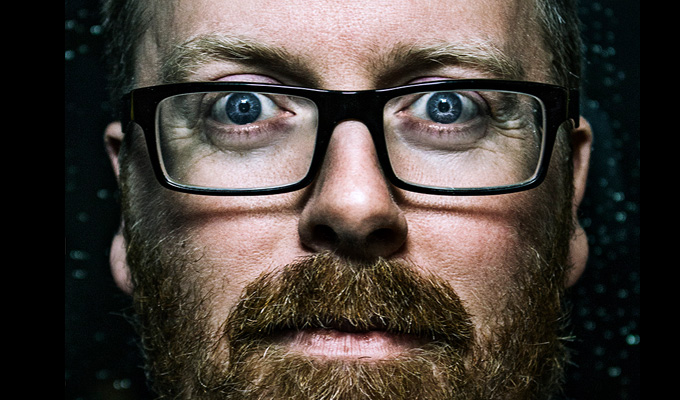 'Reality TV is a Geordie f***ing an octopus'
TV comedy is too bland – and needs quotas to ensure more diversity, Frankie Boyle has said.
The comic also said that TV comedy came under unfair pressure when it came to matters of taste compared to other genres, explaining: 'Comedy gets quite heavily scrutinised – then reality TV is just a Geordie fucking some octopus.'
He told the Edinburgh International Television Festival that he noted a change in attitudes after the 2008 Sachsgate scandal.
'Before then authorship was the buzzword,' he said, 'To get the performer's vision. After the Jonathan Ross and Russell Brand affair it was more about a brand and you'd hear "this doesn't fit our brand".
But he said the idea of authorship was 'a much more defensible position for them'. 'They can go "oh, you didn't like Julia Davis's new show, never mind you might like this next one' rather than have every show having to reflect a channels 'brand values'.
He was speaking with Sharon Horgan at the festival, and much of their conversation revolved around the problems of attracting bigger audiences to comedies that weren't so bland.
Horgan said of her critically acclaimed comedy Catastrophe: 'I don't know why more people don't watch it I don't know what puts people off. It's got a big smiley American in it and there's a lot of sex'
Boyle said he 'thought the Internet would pull people over to more alternative comedies' – but didn't see much evidence of that
However on-demand services such as Netflix and Amazon Prime are changing the sort of comedy that was being made. 'It's not about pleasing an advertiser, it's making what they think the audience might like,' Horgan said.
But Boyle was despairing of the state of mainstream comedy. 'It seems like television is stuck in 1978, especially rehashing a lot of old comedy shows,' he said. ' You almost wouldn't know there had been a thing called alternative comedy. Most comedy is observational; most sitcoms are family friendly.'
He accepted people wanted reassuring comedy in tough times – which is why Michael McIntyre is the UK's biggest comedian because viewers 'want something about what you see in changing rooms. They can't handle something big like: my country is at war.'
He added that TV executive liked the idea of risk, but in practice only wanted 'risks that work'. And he said that broadcasters got too censorious about the very things people want to see.
'The bits that they worry about are the things we might now call viral. The lines people might share, or the things that make them go, "I can't believe they did that" or "that was the funniest thing or the saddest thing" are sort of the things that the BBC or Channel 4 go, "I'm, not sure about this…" That's the sort of content you want.'
Horgan disagreed, saying: 'I've genuinely never had anyone ask me to remove anything from a script unless it wasn't working.'
And she said critical acclaim and big audiences needn't be mutually exclusive, explaining: 'Modern Family is the holy grail. If you can write a network comedy and make it good and get good performers and really good jokes, it can he done.'
Boyle also called for on-screen quotas to make the industry more diverse, saying the executives who acknowledged the situation but lamented the lack of the right talent should be forced to make it happen.
'You're the creative head of the BBC it's your job to do it,' he said. 'They just shrug their shoulders. But they should be forced to do it. It shouldn't be some young back comedian's job to make that happen.'
There was some easier listening for TV executives, as Boyle said they had a undeservedly bad reputation.
He said: 'These young comedians coming into television think they are going to meet all these arseholes who are not going to understand comedy.
'It's not like that. Everyone I met was cool and switched on. I was almost shocked that these people knew comedy inside-out. It's all cool up to a level then there's someone who doesn't get comedy.'
Horgan said she wished she'd taken an executive's advice when she was told to give her prison sitcom Dead Boss a younger cast to appeal to BBC Three's youth demographic, but refused.
She said she aimed to write 'a big and stupid and funny sitcom' with a mainstream appeal. But the 2012 show was cancelled after just one season.
'I sort of understand why,' she said. 'The controller at the time said "cast it younger". But we cat who we thought would be best.
'But if we'd Bad Education-ed it and gone a bit younger it might have built up a bigger audience. '
Published: 26 Aug 2016
What do you think?