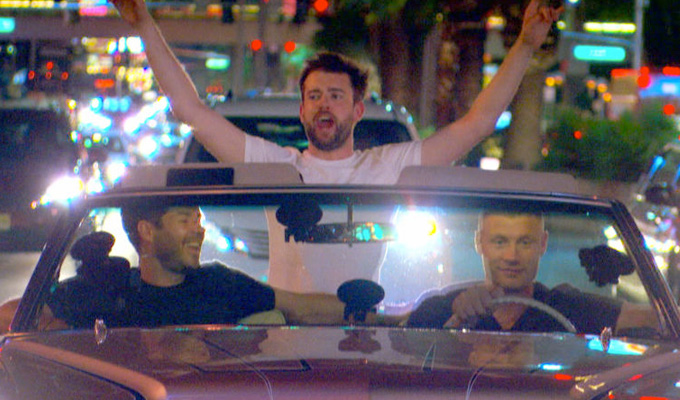 A League Of Their Own returns to the States

The League Of Their Own team are to go on a second American road trip.
James Corden, Jack Whitehall, Jamie Redknapp and Freddie Flintoff are going back to the States this autumn.
And Sky 1 has also commissioned three more studio-based series of the sports-themed gameshow
Three League Of Their Own: US Road Trip specials earlier this year proved a ratings hit for Sky 1, with the opening episode attracting 1.39million viewers. That series was set in the West Coast, with a 1,000-mile from Los Angeles to Las Vegas via San Francisco and Yosemite Valley.
Sky said: 'The second series of A League of Their Own: US Road Trip will combine stunning locations and exhilarating challenges with an insider's look all the hilarious antics the boys get up to en route.'
Adam MacDonald, director of Sky 1, said: 'A League of Their Own is totally on fire at the moment and James, Freddie, Jamie and Jack are on such brilliant form. 
'Ratings and critical response for the studio shows have never been better and the awesome Road Trip specials have broken all records. I can't wait to see what James puts the guys through in the second Road Trip outing and I'm so so pleased to have secured another three years of the genre-defining studio show.

The 11th series of A League of Their Own will air on Sky 1 this autumn.
Published: 25 Aug 2016
Recent News
What do you think?