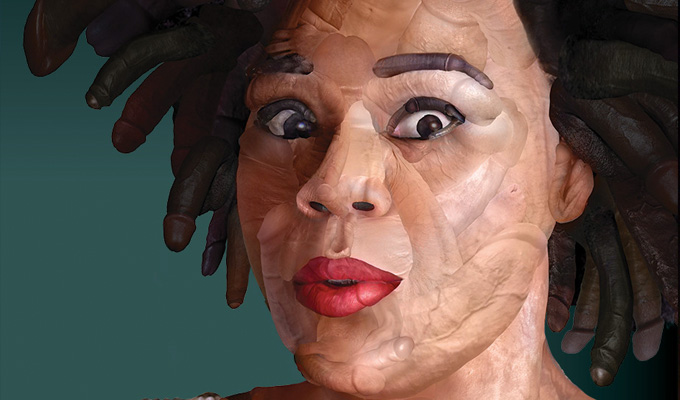 Comedy prize is won by a bunch of dicks
A montage of penis photographs has won a £1,500 prize at the Edinburgh Fringe.
The image – promoting Desiree Burch's show This Is Evolution – won the people's choice category of the Edinburgh Comedy Poster Awards.
And Lou Sanders won the same amount for securing the judges' vote.
At first glance, little seems out of the ordinary about Burch's poster for her show. But her face has been made up from 250 unsolicited 'dick pics' she was sent from her time online dating.
Burch said: 'Looking at the things that have identified my life growing up female, experiencing and overcoming limitations – a bunch of dicks on my face just seemed to say it all. Also, they get a chance to be all over my face, which I am guessing was part of their original intention.'
The poster was designed by Aaron Jacob Jones, who has made a video of how it was put together, see below. Second place in this category was Kai Humphries' poster, with the rest of the top 5 comprising Cat Call by Catherine Bohart and Cally Beaton; Mr Edinburgh 2016 by Beasts and Jenny Collier's Jen-Hur.
The poster for Sanders' What's That Lady Doing was praised by judges for its 'intrigue'.
Julian Aston, from video editing house Suite, which sponsored the awards, said: 'When we saw Lou's poster our first thought was "What is she doing?" We were intrigued and it piqued our interest. The poster perfectly describes the show in a smart and well executed way.'
Sanders also wins an editing session at Suite, which may come in handy as she is currently working on a short film starring Tom Rosenthal and developing a feature film with co-writer Hannah George.
Also in the top five were Carl Donnelly's Bad Man Tings; Jayde Adams's 31; Lolly Adefope's Lolly 2; and Pippa Evans's Same Same But Different.
The awards were handed out at a ceremony hosted by Sam Simmons tonight. A total of 330 posters were submitted into the competition, attracting 16,051 votes.
Here's how Desiree Burch's poster was created:
Published: 15 Aug 2016
What do you think?