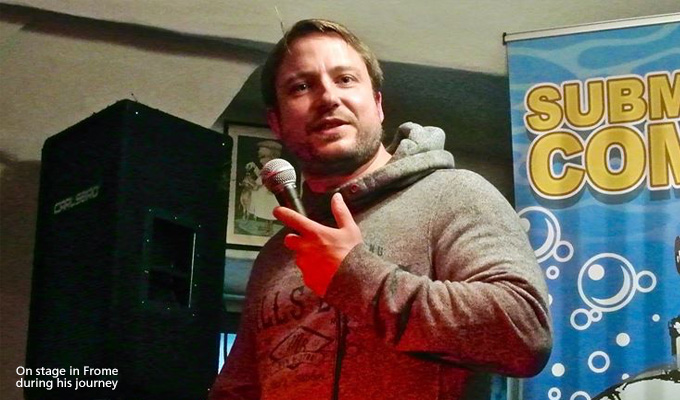 Made it!
Stand-up Damian Kingsley has made the trip from Lands' End to Edinburgh, without spending a penny.
The comedian has blagged places to stay, food and lifts all the way up the country, and in return telling gags each night, in pubs, theatres, working men's clubs and even a fruit farm. 
His final show after 120 nights takes place at the  Voodoo Rooms in Edinburgh tonight, when he will be joined by fellow comics Tom Stade, Eddy Brimson, Ro Campbell and Gary Sansome.
En route Kingsley raised over £16,000 for housing charity Shelter – more than twice his initial goal.
He said: 'It's been a phenomenal adventure and I'm overwhelmed by the kindness and generosity of all the people who've helped me along the way. 
'It's been tough at times. I've had days where I've not eaten and have often had no idea where I'd end up sleeping but my experience is obviously no more than a small insight into what homeless people go through every day of their lives.
'I couldn't have done this without all the help I've had from other comics, comedy promoters and agents. We tend to hear a lot of negativity on the circuit but this has shown me how supportive it can be and how we can work together to acheive something really worthwhile.'
Shelter's Julie Bolt added: 'We're hugely thankful to Damian for undertaking such an extraordinary challenge to raise funds for Shelter.'
He will talk about his experience on the trip at his Fringe show, Knock Knock, which takes place at at Bar 50 at 3.30pm, with all donations also going to Shelter.
Click here to donate to Kingsley's appeal.
Meanwhile, fellow Ben Van Der Velde will complete his 330-mile walk around the entire London Underground network on Saturday.
The comic will cover the 23 miles from Knightsbridge to Cockfosters, at the end of the Piccadilly line, after spending 26 days on his travels.
The trip has raised almost £3,500 for the Refugee Council
He said: 'It's been a tremendous amount of fun to wander around an entire city for five weeks, getting to know it's nooks, crannies and unlikely surprises. I've been staggered by many things: how tired simply walking can make you; how supportive friends, family and strangers have been; just how much zones 3-5 there is; how bad my sense of direction is without GoogleMaps; how much ice baths hurt and what a remarkably diverse and sprawling, joyous mess London is.'
'Most of all I'm so thankful to everyone who's donated to the Refugee Council, who are a remarkably steadfast bunch working so hard in turbulent times.  I can't wait to finish and go do something easy like finish writing an Edinburgh show.'
He also revealed that he had to visit Heathrow twice, as he forgot Terminal 5, and suffered no blisters, 1.5 bleeding nipples ('don't ask'), one sprained ankle, on inflamed Achilles tendon, two splinted shins, one sunburn and one trenchfoot.
Van Der Velde's donation link is here.
Published: 14 Jul 2016
Recent News
What do you think?