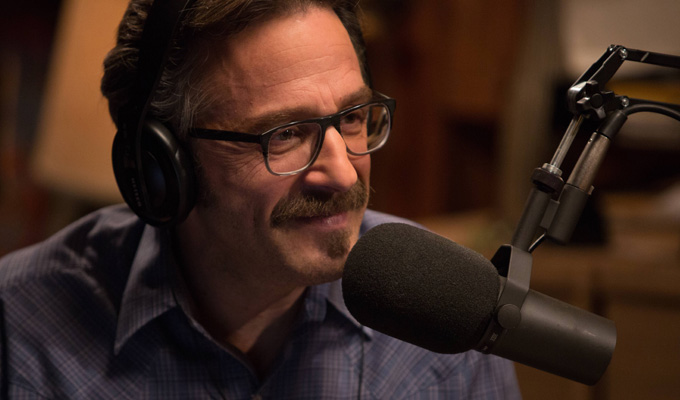 Marc Maron axes his TV series
Marc Maron has pulled the plug on his US comedy series.
The fourth series will come to an end with a double episode on digital network IFC tomorrow – and the comic says that will be the last.
He announced the news on his top-rated WTF Podcast – and said it was his decision to end the show as it reached a natural conclusion, rather than dragging the scripts out until they became stale.
The comic told listeners: 'Maron, the show on IFC, it's the season finale. It's going to be a double-header; the last two episodes. Very excited for you to see it. But I also want to tell you that it's the series finale. I've decided that this is it; it's done.
'There are ways to do more, but this is it; this was the vision. I couldn't be more thrilled about how it came out; how all four seasons came out.
'I think you'll see that we wrapped the story up in the best way possible, and I just feel like it's done and I'm thrilled about it.'
The series launched in May 2013 and starred Maron as a fictionalised version of himself, alongside other comics such as Andy Kindler and Rick Shapiro. Lucy Davis, best known as Dawn from the original version of The Office, played Marc's manager Emily.
Maron said he had not had discussions with the broadcaster about a fifth series, saying it was his decision alone to axe the show.
'I imagine, maybe, IFC would want to do more, I don't know. They have not said anything to that end,' he said. 'They haven't said one way or another but that's just the way TV works. But I don't want to do any more .
'I think they would be thrilled to do more because it doesn't cost them a lot. We do it pretty inexpensively, which adds to the challenge, but I have amazing people working with me on Team Maron.'
'IFC gave us a lot of creative freedom. But it's done, I'm proud of it and I don't see any reason to keep going. I don't have to.'
And he spoke about long-running network sitcoms retreading old ideas because they were so lucrative. - but because stakes were lower for him, he could end the story arc where he wanted.
'I'm sorry if you're disappointed but I ab glad I am able to say I am done and it can be my decision,' Maron added. 'I'm very happy not to be desperate and be beholden to that desperation This way I can be proud. It's like British shows, they have the right ideas they do three, four seasons and it's done.'
The current series of Maron started with his character living in a storage unit after a relapse into drug addiction, that cost him his house,podcast, agent and friends.
Britain's Fox channel aired the first two seasons, but the second and third have not been seen in the UK.
In a statement, IFC said: 'IFC feels incredibly fortunate to have had the opportunity to work with Marc and to bring his unique vision for a television show to our viewers, and we support his decision to bring the series to a close after this remarkable fourth season.
'We are enormously proud of Maron and the comedic, poignant and deeply personal ride Marc has taken us on. He is an incredibly authentic talent, and we wish him nothing but the best.'
Published: 12 Jul 2016
What do you think?