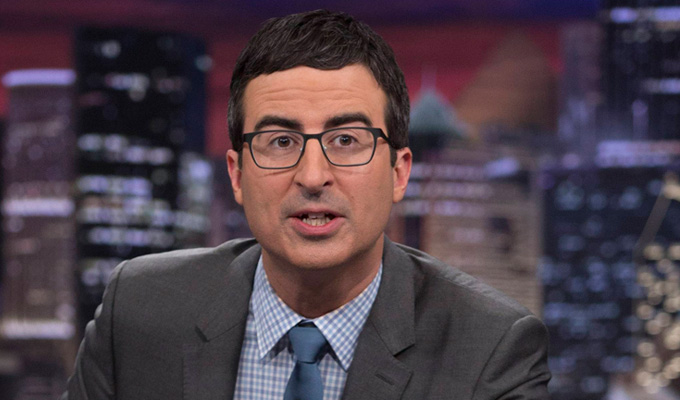 Sky shelves Last Week Tonight
Sky Atlantic has dropped a planned broadcast of John Olvier's Last Week Tonight because of its pro-Remain message.
The comic spent more than 15 minutes attacking the Brexit campaign on his HBO show on Sunday night.
However UK election laws prevented Sky Atlantic from airing the programme in its normal Monday night slot in the UK. It has therefore been moved it to 10.10pm on Thursday, after the polls close.
A spokesman said: 'Sky have complied with the Ofcom broadcasting restrictions at times of elections and referendums that prohibit us showing this section of the programme at this moment in time. We will be able to show it once the polls have closed on Thursday.'
However, the legislation has done little to stop the footage spreading.
While Last Week Tonight might get a audience of around 300,000 when it follows Game Of Thrones on Sky Atlantic – and just 24,000 when it doesn't – the Brexit segment has already received more than 3million views on YouTube.
In the show, Oliver said he understood frustrations with Europe but highlighted the racist views of some Ukip supporters, lies spread about EU bureaucracy and the overwhelming weight of expert opinion about the economic damage a withdrawal from the EU would cause.
Oliver told viewers: 'My homeland is on the edge of doing something insane… Britain would be absolutely crazy to leave.'
Indeed he ended the segment with a song set to Beethoven's Ode To Joy, the EU anthem, sung by a barber-shop quintet in Union Jack waistcoats, with added lyrics including: 'We would all be batshit crazy for leaving it'.
Although impartiality rules prohibited the show's UK broadcast, that did not stop several viewers on Twitter speculating that Sky owner Rupert Murdoch, a virulent anti-European, was behind the decision.
Here is the segment:
Published: 21 Jun 2016
Recent News
What do you think?