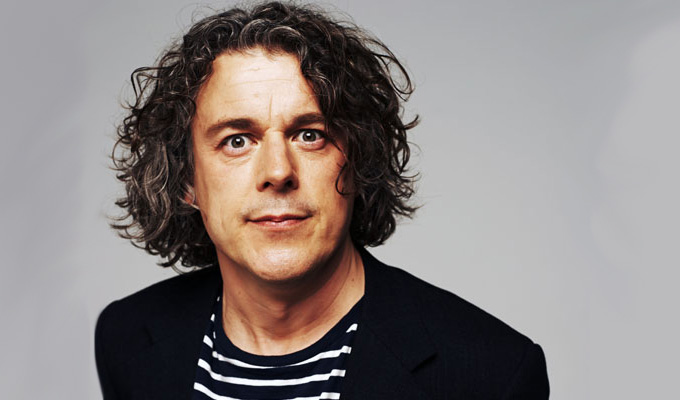 Alan Davies to star in football film

Alan Davies is to star in a film about the worst football team in England.
Described as 'Billy Elliot meets Bend It Like Beckham', The Bromley Boys is about Bromley FC when they were bottom of the lowest non-league division in 1969.
It is inspired by Dave Roberts' 2008 memoir of the same name, and covers his teenage infatuation with the club, his Ambition to manage the team and his blossoming relationship with the chairman's daughter, Ruby.
Davies – a lifelong Arsenal fan – narrates the £700,000 feature as Dave, while former EastEnders star Martine McCutcheon plays Gertie, the lad's mother.
Hale and Pace's Gareth Hale and The Office's Ewen MacIntosh co-star, alongside Jamie Foreman, who played Derek Branning in EastEnders, and Kidulthood star Alan Deacon.
Famous faces from the world of football are also expected to appear in the film, which begins shooting around London and the south-east in September. It is slated for a cinema release in June next year.
A casting search for the teenage stars begins next month, with producer TJ Herbert telling Chortle: 'For me, the romanticism and the charm of the film is that it's all about Bromley.
'So if I can find the boy and girl from a performing arts school or a school in Bromley that would be fantastic.'
Warren Dudley has written The Bromley Boys script and Steve Kelly directs.
Kelly said: 'This film aims to recreate and capture the wonderful nostalgia of the baby-boomer generation in the heyday of suburbia; with flamboyant flares, sheepskin coats, Ford Capris, side-burns, comb-overs and gold-chain-wearing characters.
'Yet at the heart of this comical and timeless story is a lonely boy with an overactive imagination looking for friendship and acceptance - and so begins his love affair with the worst team in Britain!'
Bromley currently play in the National League, English football's fifth tier.
The Bromley Boys will follow Sky1's current sitcom about the supporters of a non-league football team, Rovers, which stars Craig Cash and Sue Johnston.
- by Jay Richardson
 
Published: 13 Jun 2016
Recent News
What do you think?