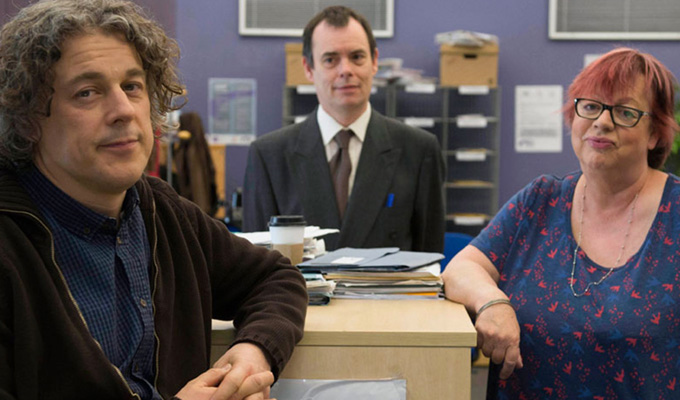 Channel 4 gets Damned
Jo Brand's social work sitcom, Damned, has been picked up by Channel 4.
Alan Davies, Kevin Eldon, Aisling Bea and co-creator Morwenna Banks also star in the dark comedy set in a chaotic children's services department.
Brand and Davies play Rose and Al, stressed out from swimming against a tide of bureaucracy and pedantry, contending with the absurdities and irrationalities of life in a county council office as they struggle to navigate their equally trying personal lives.
Himesh Patel, Marjorie Yates and Nighty Night's Georgie Glen co-star in the six 30-minute episodes, which are written by Brand and Banks with The Thick of It star and stand-up Will Smith.
Brand said: 'As the daughter of a social worker, who worked for many years in child protection, I grew up seeing social workers go unrecognised for the good things they did and castigated for the bad. It's like being a traffic warden without the perks.
'Damned is an attempt to portray the tragic-comic lives of social workers, always under pressure, always in possession of a grim sense of humour and always wrong in the eyes of the public.'
Filming begins on the sitcom next month, directed by Ian Fitzgibbon, whose credits include Moone Boy and Raised By Wolves.
Damned has been developed with rival broadcasters. It was originally table-read at the BBC and a pilot, which also featured Romesh Ranganathan and Rebekah Staton, was aired in 2014 as part of Sky Arts's Playhouse Presents strand.
In the pilot, Bea played a crazed single mother and Eldon a harmless fantasist who imagines he works in the office.
Damned was commissioned by Channel 4's head of comedy Phil Clarke and deputy head Nerys Evans.
Evans said: 'We are thrilled to be working with Jo, Morwenna and Will on this brilliant bittersweet series. The series highlights some of the challenges and dilemmas facing front line social workers in this time of austerity. The characters are warm, honest and human and often have their own set of challenges outside of the office as well.'
A former psychiatric nurse, Brand is currently playing nurse turned home carer Kim Wilde in BBC Four's Getting On sequel Going Forward, alongside Omid Djalili.
Damned is produced by Claire Whalley for What Larks! Productions, which also made Eldon's Brilliantman! for Sky Arts and a series of documentaries fronted by Brand for BBC Four.
Here is the trailer for the Damned pilot:
- by Jay Richardson
Published: 25 May 2016
Recent News
What do you think?