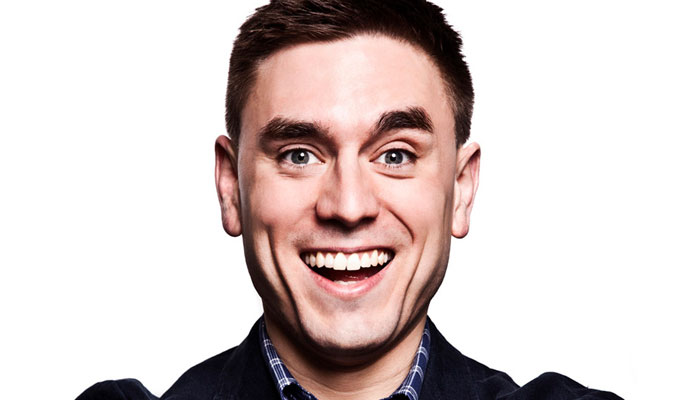 'Unknown' comic outsells Jerry Seinfeld

An unknown British comedian, who admits the London comedy circuit 'ate me alive', has filled an arena gig in Canada.
James Mullinger sold 4,871 tickets to the Harbour Station Stadium  in Saint John, New Brunswick, where he moved two years ago.
It's the biggest comedy audience the venue has ever had, beating the record Mullinger's comedy hero Jerry Seinfeld set four years ago – although the venue won't disclose exactly how many tickets that gig sold.
'Two years ago when I moved here, I was told I wouldn't get any work as a comedian – and last week I sold more tickets than Guns N Roses, Iron Maiden, Jeff Dunham, Def Leppard and Alice Cooper when they played the same venue,' Mullinger said.
And the ambitious comic credited hard work and the 'support of the lovely people in a small city' for his success. Saint John has a population of just over 70,000.
'London ate me alive,' he said. 'Saint John brought me back to life. Small cities will do that. I had no big plan coming here. I had no big team behind me. I had no Canadian TV credits or festival credits. I had nothing except some jokes and a work ethic. 
'I just came here, took every gig I could, did good work, people liked what I did and they came out in their thousands to support. It's that simple. And anyone could do this. I am not special in any way.
'This wouldn't be possible in a big city but in a small city in New Brunswick it is. That's why I live here. And it's why I will never live anywhere else. Hard work and being good at what you do pays off here.'
Mullinger was a picture editor at GQ magazine while he was based in London, using his job to meet his comedy heroes and secure a  slot at Montreal's Just For Laughs festival. One of his last UK appearances was at the GQ Comedy Extravaganza at he organised at the Hammersmith Apollo in 2014, when he appeared alongside the likes of Lee Mack, John Bishop and Greg Davies.
The run-up to the Saint John show was also filmed for a documentary for state broadcaster CBC, which will air in Canada later this year.
Published: 3 May 2016
What do you think?