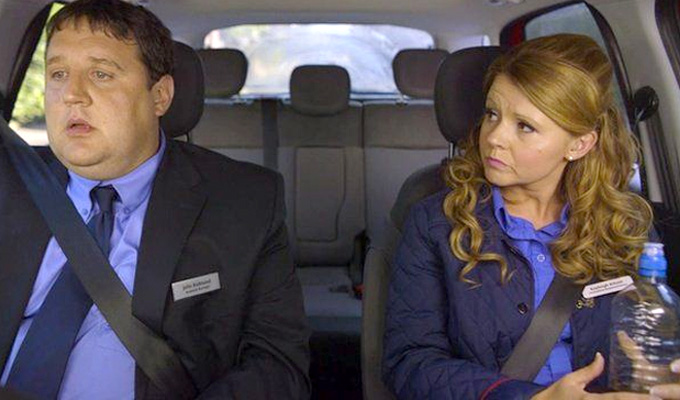 Work starts on Car Share series 2
Filming has begun on the second series of Peter Kay's Car Share.
The comic has been spotted recording scenes in the streets of Salford – including one where his character, John Redmond, has run-in with a cyclist.
The bike-rider put a water bottle on the roof of the Redmond's car at a set of traffic light before speeding off. And Kay was also filmed stroking the beard of the cyclist, an older man.
Sian Gibson will also return in the new episodes as Kay's supermarket colleague and car-share companion Kayleigh.
The comedian confirmed the show's return late last year, but said the team had to wait for lighter evenings because of technical issues filming inside a vehicle – which also explained why the couldn't shoot a Christmas special.
And he said: 'I was delighted with the response it got. I was never too sure people would like it because it was just two people in a car talking and I thought, will people in this day and age sit and watch that?'
Car Share, created by Tim Reid and Paul Coleman, was critically acclaimed, winning National Television, Broadcast and Broadcasting Press Guild awards. And the two stars are both up for Baftas on Sunday.
Published: 3 May 2016
What do you think?