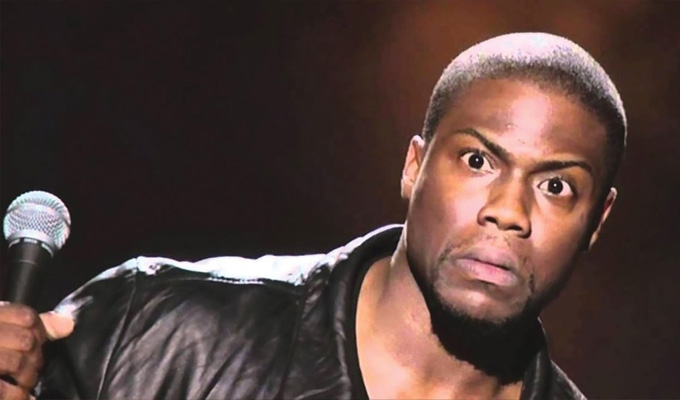 Now it's Kevin Hart, the video game
Kevin Hart is launching a new comedy streaming service as well as a video game in which players simulate the life of a stand-up star.
The on-demand service, Laugh Out Loud, will be an outlet for the comedian's new projects –  but not his top-selling stand-up tours nor Hollywood films.
First up is a hidden camera show in which Hart plays an undercover driver for the Uber-like service Lyft.
Meanwhile, he is also developing an adventure game for mobiles and tablets, in which he will star as a 'mentor' guiding the players through challenges such as comedy tours, movie deals, award show hosting.
Both projects are in partnership with Lionsgate, with Laugh Out Loud set to feature the studio's movie catalogue, some of which will be curated by the comedian.
Hart said: 'I understand the direction in which the television business is headed, and I see this big new space toward which audiences are starting to gravitate. I believe that launching this venture together now puts us ahead of the pack.'
Expected to launch sometime later this year, the start-up will hope to challenge big players such as Netflix and Amazon Prime as well as specialist channels such as NBC's $3.99 a month comedy offering Seeso and the newly announced youth-skewed service Fullscreen.
Other new commissions for Hart's Laugh Out Loud including a series from 20-year-old Vine star Logan Paul.
Jeff Clanagan, president of Laugh Out Loud, said: 'The Kevin Hart brand speaks for itself, and his combination of creative brilliance and financial acumen position Laugh Out Loud and his social game to continue expanding his global fan base while introducing his comedic genius to a whole new online audience.'
Published: 31 Mar 2016
What do you think?