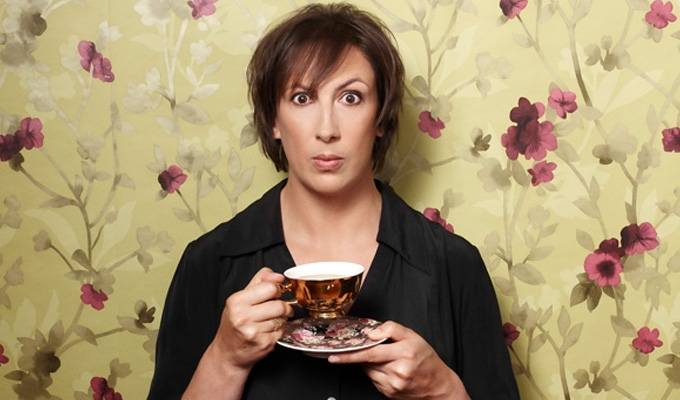 New book from Miranda Hart
Miranda Hart has finally completed her new book – three years after she lost the draft for the original when her laptop was stolen.
Peggy and Me, which is based on the comedian's day-to-day life with her dog, had its release date put back indefinitely after the computer was stolen in October 2013.Now publishers Hodder say the new title – a follow-up to her 2012 No. 1 bestseller Is It Me? – will be out on October 6.
She tweeted: 'After twas stolen 2 yrs ago from my laptop in a burglary, I've redone my book Peggy & Me.In your face burglars!' – as well as this picture of Peggy:
Peggy says goodnight and thanks for being excited about the book what is all about her. #PeggyAndMe pic.twitter.com/zkaVjNh7WH

— Miranda Hart (@mermhart) March 16, 2016
In a statement, she added: 'I am so thrilled to be given the chance to write a second book, and I look forward to introducing Peggy to the world and telling you about the many comic adventures we have found ourselves on as well as sharing the life lessons I have learnt from her. Reflective, life affirming stuff – I'm not talking about how to wash my bum with my tongue or take a pie packet out of a bin and lick it.'
She says that for years she didn't consider herself a dog person, 'viewing dog owners with some suspicion' and being 'bored by their tendency to talk only about their pooch, alarmed by their light coating of dog hair and troubled by their apparent comfort around excrement'.
But that all changed when, nine years ago, she met the Shih Tzu Peggy. Hart subsequently said of her pet: 'I chat to Peggy like a mad eccentric. I've always been old before my time.'
Hannah Black, non-fiction publishing director for Hodder, said: 'It's a joy to be working with Miranda again. After the huge success of her brilliant first book, Is It Just Me? she's gone on to write a wonderful, revealing new book that will make people laugh and also have a bit of a cry. If only we could all have a Peggy in our lives.'
Hart's computer was stolen in Hammersmith, West London, and at the time she tweeted: ''If people who stole my laptop last night in W6 out there. Please please please return. Precious creative projects all lost. Will reward. RT.' Only now has it been revealed what one of those creative projects was.
• Click here to preorder Peggy & Me for £20.
Published: 17 Mar 2016
What do you think?