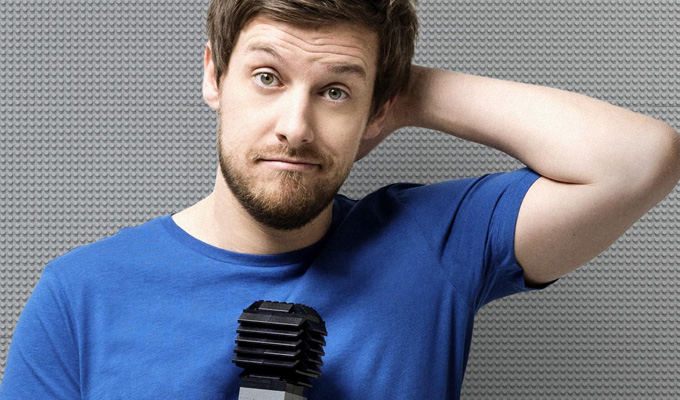 Police storm Chris Ramsey's hotel room
Comedian Chris Ramsey was shocked when armed police stormed his hotel room in the early hours of this morning and slapped him in handcuffs – mistaking him for a knifeman.
The stand-up was winding down after a gig when officers broke down the door of his room at the five-star Renaissance Hotel, St Pancras.
A four-strong squad tried to drag him out of the room in his underpants before they figured out that he wasn't the man who had been brandishing a blade at hotel staff earlier that evening.
Ramsey first thought he had been a victim of a hidden-camera-prank show, but the officers – who were responding to a 999 call – soon made it clear they were deadly serious.
He told Chortle: They attempted to just burst in my room but thank god I had the latch on. So they just kept screaming to open the door. I honestly though I was getting pranked. I answered the door in my underpants and they pinned me to the wall and starts to cuff me without telling me why. 
'They just kept saying "You are coming with us." Then they asked my name, and as I said it, one of the coppers just looked like the penny dropped and told them to uncuff me. 
'He either knew my name, or my face, or just realised that this confused man in his kegs probably wasn't the guy they were after! '
Apparently hotel staff called police in the belief Ramsey was the man threatening them earlier in what is being treated as a racially-motivated incident.
The comic detailed the incident in a series of tweets, starting:'Well... The police have DEFINITELY just kicked my hotel door in and handcuffed me!! I'm fucking shaking!!
'Hotel staff ID'd me as someone who had been in the hotel earlier threatening staff with a knife. So when I checked in just now they called the police and sent them up to my room! 
'Police put the handcuffs on me and began to march me out of my room when I shouted, "But I'm in my kegs!"
'I love the idea that someone who was in earlier threatening staff with a knife, would then check in later for a kip!!'
'I swear, I thought it was Ant and Dec or Keith Lemon or someone having my life at first!'
But Ramsey could still joke about the incident, posting:  'Couldn't work out if they knew me from Celeb Juice or fucking Crimewatch' and '10 minutes later and they would have caught me mid wank'
And he said he calmed his nerves with  beers from the minibar, adding: 'I doubt they'll be on the bill when I leave.
The Metropolitan Police confirmed: 'Police were called at 6.55pm on Sunday to reports of a man with a knife who was threatening hotel staff at the Renaissance Hotel, St Pancras. 
'Officers attended and searched the area, but the suspect was not found. The matter was reported as a racially aggravated harassment, and officers left the venue.
'At 00:36hrs , an emergency call was made to police and it was reported that the suspect had returned to the location with a knife.'
'Police attended and were informed the suspect was inside the hotel. Officers entered a room where they detained a man. '
'Following further enquiries it was established he was not the suspect.
'Officers continue to liaise with the premises whilst they conduct further enquiries to identify the suspect.'
A spokesman for the Renaissance Hotel apologised to Ramsey for the 'unfortunate matter'.
They said in a statement: 'The safety and security of our guests and employees is of the utmost importance, so when a suspicious man started to threaten the safety of our employees we immediately contacted the police.
'The police opened an investigation and instructed our hotel staff to alert them if anyone fitting the description of the suspect returned to the hotel. It is unfortunate that when Mr. Ramsey entered the hotel lobby the staff contacted the police out of an abundance of caution.
'We have since learned that Mr. Ramsey has been involved in a case of mistaken identity. Our apologies go out to Mr. Ramsey that he endured such an unfortunate matter while a guest at our hotel.'
Ramsey was staying in the £300-a-night hotel after the latest date in his All Growed Up tour at the Radlett Centre in Hertfordshire. He is due to play the Lyric Theatre in the West End tonight.
Published: 29 Feb 2016
Recent News
What do you think?