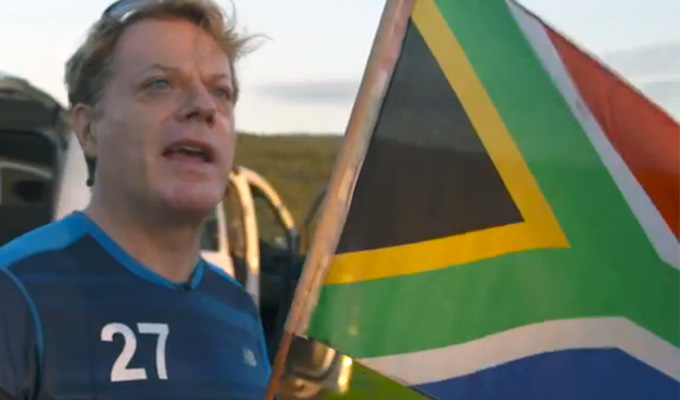 Izzard forced to miss a day's marathon
Eddie Izzard has been forced to take a day off his quest to run 27 marathons in 27 days on doctor's orders.
The comedian was grounded yesterday on medical advice, following the result of blood tests.
However he was given the all-clear to embark on his sixth marathon in South Africa today, but at a brisk walking pace rather than a run.
After his setback, Izzard conceded 'it's better to be safe', but admitted he was frustrated.
'I'm trying to mentally keep positive about this,' he said. thinking it's a day off, that's nice. It's a Saturday, it's a day off. We're being sensible about this. But also were trying to do a challenge and trying to salute Nelson Mandela.'
Each of the marathons represents a year Mandela spent in prison.
Izzard later seemed more emotional about the setback, saying: 'I had to give up last time, and I don't like doing that.'
After being given the OK to restart the challenge today, the comic said: 'We're going to do everything we can to make this all stay cool,' indicating his face, 'so I can keep on going forward. Because this brain still wants to get to Pretoria, the steps on the Union Building where Nelson Mandela was made president, at the end of my 27th marathon.'
'It's about the story, it's about fighting to get to that end.'
Izzard's challenge is raising money for Sport Relief, and being covered on BBC Three.
Published: 28 Feb 2016
What do you think?