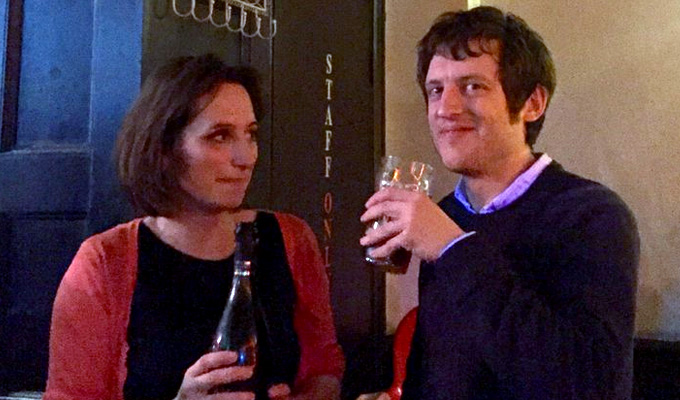 'Elis, I love you. Will you marry me?'
Isy Suttie and Elis James are engaged to be married after she proposed at a launch party for her new book.
Suttie popped the question at the Westow House pub in Crystal Palace after her appearance at the Bookseller Crow earlier this month.
The news was revealed on James' Radio X show with John Robins, as they played a recording of the moment.
Ironically, Suttie's memoir, The Actual One, is about her struggle not to settle down while her friends get married and have children.
The recording starts with Robins standing on a chair, tapping a glass and announcing 'Isy would like to say a few words and see how it goes …'
A clearly emotional Suttie can be heard thanking her friends for coming before saying to James: 'I love you. Will you marry me?'
On the radio show, Robins then recalled a 'phenomenal photo of everyone crowded round Isy staring into Elis's eyes while he looks down at his plate with his knife and fork in his hand, absolutely unaware of what's going on'.
James admitted: 'Because she said, "Elis I love you" and I thought yeah, she's going to thank Rupert her publisher, b) her editor in a minute and… oh wow!
'And obviously, amazing woman and all that sorts of stuff. But the stand-up comic in me did think "oh, if I made a joke now, as long as I read the vibe right, it would be very, very, very funny". But then I looked at everyone's expectant eyes and I looked at Isy and I thought, "This is probably not the time to start riffing."
'Obviously I said yes, very very happy. "Wallop" I think is the word!'
Suttie and James originally met at a gig in 2009, started dating the following year and have a 16-moonth-old daughter together. She proposed on February 9.
Suttie told Chortle: 'Once someone's watched you give birth, it seems only natural that the next step is bickering over vol a vent flavours and whether Manic Street Preachers can work for a first dance. I'm very very happy to finally be making an honest man of Elis.'
Hear the discussion and recording on the podcast of Robins and James's radio show here. The item starts about 27 minutes in:
- by Jay Richardson
Published: 22 Feb 2016
What do you think?