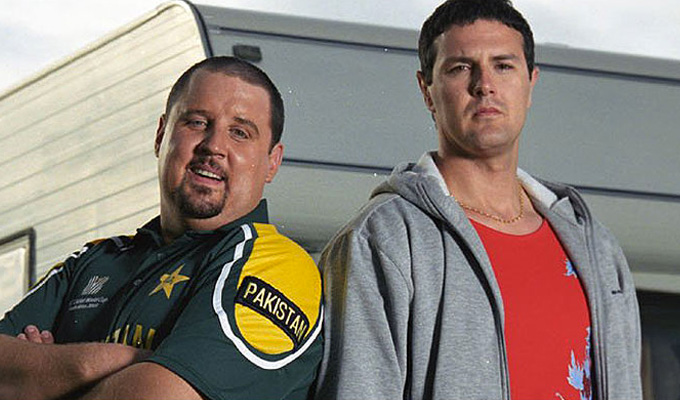 Peter Kay: We wrote more episodes of Max & Paddy
Peter Kay and Paddy McGuinness have written more episodes of Max & Paddy's Road To Nowhere.
But they have never been shot because of McGuinness's commitment to Take Me Out.
Kay makes the revelation during an hour-long tribute show to his career, 20 Years Of Funny, airing on BBC One tomorrow night.
He says of Max & Paddy: 'We had a really good laugh making that series. We wrote more series of that, we wrote more specials. But we never got together and made them because of Take Me Out.'
Only six episodes of the Phoenix Nights spin-off, created by and starring the two childhood friends, were made in 2004, although it would be six more years until McGuinness started hosting the ITV dating show.
Kay also reveals that despite the arena-filling success of his stand-up shows, he only ever saw it as a way of getting in to acting.
'I always wanted to be comic actor,' he says. 'I'd seen John Thomson and Steve Coogan start doing stand-up on Granada and then they'd evolved into getting comic acting parts.
'I didn't know anything about casting directors but I thought they seem pretty blinkered in the casting of parts.
'I wanted to use stand-up to get into comedy acting because that felt like the meat. Stand-up felt like a bit of a laugh - hopefully – but the burning desire for me was to take something you'd written and turn it into something that was on television.'
Kay also speaks of his youthful obsession with comedy, saying: 'I spent my life studying comedy: going home, recording things on VHS watching them back,writing stuff down, taping things off television, getting comedy LPs, listening to them…
'I had like 500 VHSes, all comedy films. I used to watch them and watch them again. That felt like my apprenticeship, my studying of it all. I never went out.'
Kay studied media performance at Salford University, and tomorrow's tribute also features student films and footage of his first stand-up gig from 1995, which he performed as part of his course. After the show, the young Kay said: 'It's better than sex… better than the sex I've had anyway'.
He said of his style: 'I looked at other comedians and they were all talking about sex or drugs or getting drunk. Well, I didn't drink and… well, I'd had sex… -ish. I just thought I'll talk about the things I know about, which were me Mum and family and these part-time jobs and that's what then turned into my style. You've got to talk from where you feel most comfortable.'
JK Rowling, Matt Lucas, Jason Manford and Phoenix Nights co-writer Dave Spikey are among those who pay tribute to his comic talents in Peter Kay: 20 Years of Funny, which airs at BBC One at 9.05pm tomorrow.
Published: 23 Dec 2015
What do you think?