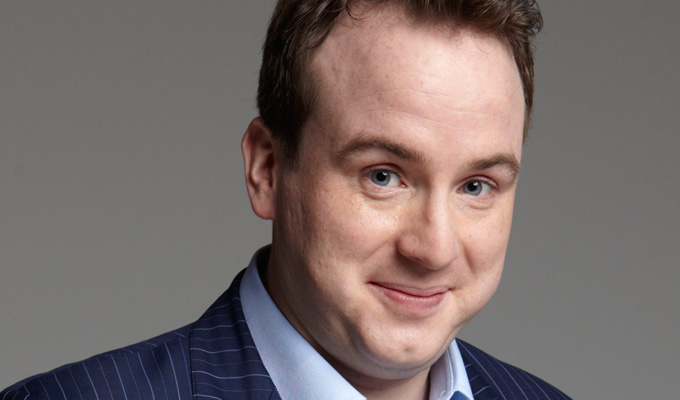 Matt Forde pilots topical BBC Two show
Political comedian Matt Forde is piloting a new satirical show for BBC Two.
Provisionally titled Unspun, the show promises 'a mix of political guests, jokes and special features'.
It is being made by Avalon Television, the production arm of Forde's agents, whose credits include Russell Howard's Good News and Catastrophe.
Forde, a former Labour party activist, has written for Howard's show as well as 8 Out of 10 Cats and Stand-Up for the Week.
He has spent the last couple of years working on a live show called The Political Party, which mixes topical stand-up and political debate. It has attracted Westminster A-listers such as Nigel Farage, Alistair Campbell and Jack Straw, and last month he scored a coup with an interview with Tony Blair in which the former Prime Minister revealed he dabbled in stand-up as a student.
No format gas yet been announced for the show, but a test episode will be made early next year.
And producers have put out an open call for comedy writers who might be able to contribute to the show – no matter what their previous level of experience. 'Don't try to second-guess what tone this show will be; make things in your voice,' they told would-be contributors.
The open-door policy follows the success of Radio 4 Extra's Newsjack, fronted by Nish Kumar, which won a prestigious international Rose d'Or award last month.
Here is the full description of what producers are looking for:
SUBMISSIONS BRIEF
We are making a pilot for a new satire show for BBC Two called Unspun. It will be a mix of political guests, jokes and special features.   We're looking for people to join us making the show; creating content, writing material and coming up with ideas for show features. If that sounds like the kind of thing you're into then we'd like to hear from you.   If you are a writer or writer/performer then we'd like you to get involved. There are opportunities for both writers and performers on the show.   If you'd like to be considered then please send us the following two things:   1. A side of A4 topical writing which gives us a flavour of your writing style, personality, interest in politics and popular culture.
This is completely open to your interpretation so long as it's topical, we don't mind what form you use. We are looking for both strong humour and an understanding of how to structure your bits so please do make whatever you do have shape.   2. Two ideas that you think would fit well in this satire based show.
These would be a self-contained section that would occur in every episode across a series. The best versions of these are original and most importantly, simple. In tone these ideas can be as 'straight' or as silly as you like. It's up to you.
We are not interested in previous work, experience, or any of that: These are blind submissions We are looking for the people who best fit this show so it's important we get a feel for your style. Don't try to second-guess what tone this show will be; make things in your voice.   Please send your submissions to info@avalonuk.com by the closing date of January 31, 2016.
Please write – UNSPUN – OPEN SUBMISSION ENTRY – in the subject line of the email.   For the avoidance of doubt, submission will not alter or effect your ownership of the rights in your own work in any way.
Published: 21 Dec 2015
What do you think?